[vc_row][vc_column][vc_column_text]Although one of the basic tenets of the tiny house movement is the desire to live mortgage-free, the reality is many of us still need to borrow money from time to time, and credit plays a role in our lives regardless of whether we like it or not. Despite the overall lower cost of a tiny house, you may be looking at investing a substantial chunk of money on land, resources, labor and so on. Depending on your plans and requirements, a small loan might be something you need to bring that dream to fruition.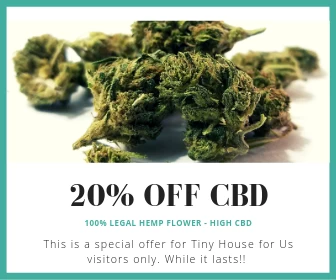 Unfortunately it's not that easy to get a loan for a small house. In fact it's almost impossible, and even though interest rates remain incredibly low, banks have tighter credit restrictions than ever. Even if you have a great credit score, expect to run into some walls when sourcing a small loan for your tiny home or cottage.
Problem #1 – The Banks
The simple explanation as to why banks don't like to lend small home loans is that they don't make enough money lending small amounts to people, making it difficult if not impossible to secure a loan for your tiny dream home. You might be thinking "surely they must make something" but here's the catch – loan origination and servicing costs are roughly the same for a $50k loan as they would be for a $500k one. The lender makes a decent chunk of interest off the large loan, but nowhere near as much on the smaller one.
For that reason alone, banks shy away from traditional mortgage loans under 100k.
Problem #2 – The Realtors
Since they work on commission, the goal of any real estate agent is to sell you a home for the highest amount possible. If they receive a 5% commission on a sale, it makes sense to aim high, and for that simple reason you don't see many real-estate companies chomping at the bit to sell properties that cost less than $50k.
The Result? An Underserved Market.
With the rising interest in smaller homes comes a need for funding that allows people to realize their dream. Some might feel strongly that the a mortgage directly conflicts with the idea of owning a small home, a valid point to an extent, but there's another perspective. One of the primary virtues of living in a small home arises from the increased freedom from debt. When you compare a $250k loan with a $35k one, it's easy to see the differences. If you shifted from paying $900/month in rent to paying that toward a loan, you could pay off the entire loan and live mortgage-free in 3-4 years as opposed to thirty years. Even if you needed to secure a loan for $50k, the overall monthly payments would be way less than a traditional mortgage on a 2-3 bedroom house.
Despite the low cost that comes with many tiny houses, the fact is not everyone has a spare $50,000 dollars laying around. While the end goal is to cut the cord to debt completely, it might be something you need to ween away from gradually instead of cold-turkey.
Where to turn for help
All hope isn't lost and thankfully, we do have some options. Peer-to-peer lending services out there make a great choice for people looking for smaller amounts. Two of the most respected ones are Prosper and Lending Club, which both offer great rates on loans between $2,000 and $35,000. We did find some significant differences that you should be aware of, listed below.
Prosper had lower interest rates.
Prosper funded loans faster, in about 4 days as opposed to 6 for Lending Club
Prosper has more eligible states for borrowers
In examining both these peer-to-peer lending services, it seemed like Prosper had more going for them. That's why we decided to partner with them to offer a no-frills loan option.[/vc_column_text][vc_cta_button call_text="Need help financing a tiny house project?" title="Learn more" target="_blank" color="btn-success" icon="wpb_arrow" size="btn-large" position="cta_align_right" href="/likes/prosper" css_animation="bottom-to-top"][/vc_column][/vc_row][vc_row][vc_column width="1/1″][vc_column_text]
[/vc_column_text][/vc_column][/vc_row]