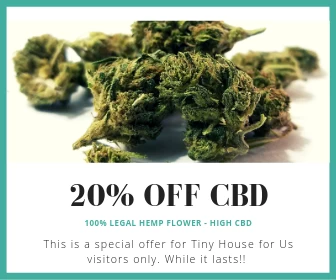 What could be more ecofriendly than a solar panel made from recycled materials? Canadian manufacturer CanSolAir Inc. is offering just that in their Solar Max 240 forced convection heating unit. The "240" isn't just a model number – it's the number of recycled aluminum cans used to make it. The no-maintenance unit can generate almost 10,000 BTU/h under optimal conditions. That's not enough to warm a standard-sized house, but it can keep a well-insulated 1,000-square-foot dwelling comfortable even in intermittent sunlight, changing the air completely every hour and a half. It should be perfect for a tiny house! A thermal storage tank filled with water or vegetable oil could extend the heating effect overnight and even outlast several days of rain or snow.
As they explain on their website: 
The CanSolAir Solar Max 240 consists of a four foot by seven foot solar collector (28 Square feet). The Solar Max can be mounted on the roof or the south side of the house.
Peak BTU performance was observed during the noon hour period in October 2001 wherein the temp rise was 10 to 12 C (50 to 54F) degrees resulting in a 9000 to 9720 Btu or 2636 to 2847Watts.
Also worth noting is the power coefficient, which determines how well the unit can turn energy into wattage. In this case it has a power coefficient of 1 to 77, meaning it can take one watt of energy and turn it into 77 watts of heat output. Pretty impressive figures!
Check out this video to see the Solar Max in action: https://www.youtube.com/watch?v=7klalzCEzMo.