These days we are so plugged into our technology that at the end of the day simply putting down our phones or closing our laptops lifts a huge sigh of relief. We are on our phones more than ever before. And if you live in the city, sometimes it feels like the craziness of life never ends. Have you ever thought about a weekend trip outside of the city in the woods just to unplug? That's why I'm writing a full review on my experience booking and staying at a GetAway House.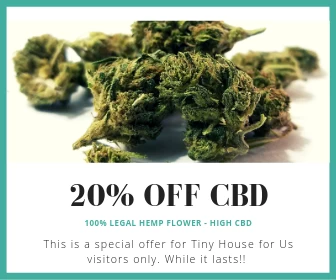 Last month my girlfriend and I were looking for a way to do just that. She has been working in a hospital here in Boston, so amongst quarantine and the craziness of COVID-19, all we wanted to do was simply turn off our phones and relax for the night. We wanted something that was deep in the woods where it was just us and nature, so we started looking for options online. But we quickly realized that camping is expensive if you don't have all the right gear like a tent or air mattress.
After researching the best spots online, we noticed most campsites were closed and airbnb's weren't taking new bookings. Then we stumbled across Getaway. Have you heard of Tiny Houses? We have been writing about them for quite some time on our blog. They are essentially homes under 1,000 square feet as a way to simplify your life and live more minimalistic. Each GetAway house on the campsite looks something like this:
These tiny but incredible homes were the perfect place for a trip outside of the city for the night. Plus, they have locations outside of Boston, Atlanta, Austin, Dallas, LA, NYC, Pittsburgh, Portland, and Washington D.C. This post is intended for a full Getaway Review on the Boston outpost.
Additionally, with everything going on with COVID-19 right now, check out what Getaway is doing to ensure a safe environment for their guests.
Booking The Trip:
The booking process on GetAway was incredibly simple. If you're thinking of doing a trip, I'd also recommend looking into the options during the week since they have pricing that varies based on if you're booking for a weekend or a week day.
You can also save $25 using the code TINYHOUSE when booking below:
Getting To The Outpost:
According to the site, all outposts are within a 2 hours drive from any major city, meaning that it wasn't too far from Boston but just far enough that we felt as though it was an escape from the city. Around the outpost there is plenty to do.
We decided to take a hike around the town waiting for our 3 PM check in. There are a handful of breweries in the area and even a hiking trail not too far away from the site.
The service piece is where GetAway shines. Upon booking my stay they immediately sent me a text asking if there was anything I had questions about. This became incredibly helpful in reassuring my girlfriend and me that the cabin was being properly cleaned during quarantine and that we could have access to staff in case something came up.
Pro tip: Getaway sends you a map of the cabin layout prior to arrival, make sure to download and save that map in case you begin to lose service when you're out there.
What to pack:
Aside from the typical camping attire of flannels, sweatpants and hiking boots, the only thing you really need to bring is food and drinks. We bought a cheese board on our way up that was the perfect pre-dinner snack.
Getaway has firewood and fire starters completely available for you. On top of that, they also have a handful of different cooking utensils and equipment so you're taken care of! The kitchen has some basic spices like salt, pepper, and sugar.
Camera: If you're into photography, being outdoors is a great way to get shots that you aren't normally seeing in the city.
Journal: Finding time to write can be a great way to escape mentally.
Board Games/Cards: I'll admit, we were up until midnight in a 1 vs. 1 game of UNO which was a blast.
Books: If you're traveling solo, having a fiction book to dive into would be a great way to get lost in your GetAway House. They also provide a couple for you as well.
Phone: You need your phone to navigate to the campsite and communicate with the check-in service, but once you arrive Getaway provides a lockbox to store your phone away!
Arriving:
Upon arriving we were greeted by our cabin, Donna! Each cabin has an assigned name to help you find it throughout the layout. The cabins are very private and about 200 feet away from one another so you don't have to worry about neighbors while you're out there.
On the inside of the cabin was a warm and pine-scented interior that made you feel right at home. The inside of the cabin had everything you could want from a queen sized loft, a kitchen, bathroom, and even a dinner table (not to mention the view into the wilderness).
The room also comes with a radio and a lockbox which were surprisingly useful. This was a great excuse to put your phone out of sight and mind for even a couple of hours. The radio was a great way to put some music on in the background without needing to bring a speaker out during the trip.
Traveling with kids?
While we didn't stay in one, Getaway also offers houses with lofts inside so that you can have double the bunk space for extra individuals coming.
Traveling with a furry friend?
Additionally, if you're looking to bring your dog on the trip, that is completely allowed! Getaway does however charge an additional fee for any pooches in the cabin.
Setting Up Camp:
So I will admit I am no boy scout. However, the fire we started was pretty great considering the light drizzle of rain we experienced during the trip. The fire was definitely aided by the fact that Getaway provides fire starters to get things going!
Plus, part of the welcome package included s'mores which were quickly devoured!
Oh and a little Rum Mai Tai 🙂
Bathroom:
The bathroom is completely stocked with shampoo and body wash so you're totally taken care of. Additionally, there are bath towels stocked. The shower was larger than I had anticipated and the toilet operates on a bag flushing system.
Kitchen:
The kitchen was the perfect size and equipped with everything that we needed for a successful trip. They had pots/pans, bowls and plates, even additional spices to help you cook. The cabinet was even stocked with extra snacks or food items for purchase in case you forgot anything at home or were looking for a late night snack!
Overall Trip:
The trip finished up with us falling asleep to the rain outside. The next morning after waking up we made a breakfast of eggs and bacon before packing up the Getaway house and hitting the road. Overall the trip was a huge success and our biggest regret was simply not booking another night!
If you're interested in spending a night for yourself – check out the affiliate link below to save $25!