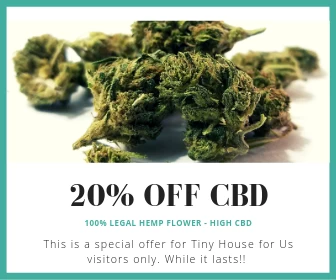 At first glance you may think this is just an ordinary van, as long as you ignore the smoke billowing out of what appears to be a makeshift chimney. We've got the inside scoop though, and we can tell you that, while this may once have been merely a means to get from point A to point B, it's now an incredible mobile tiny home fully equipped for van life!
The man behind this DIY van conversion is Dipa Vasudeva Das, a master craftsman and woodworker who clearly has a knack for custom van conversions. He calls this tiny home the "Earthship," and it's complete with all of the creature comforts you'd expect from a home, including space for his four-legged friend. Luckily for us, Dipa documented his entire van conversion, so we get to take a look at this masterpiece step by step!
Here's what he started with, a stripped down van, a blank slate that would soon look very different…
Above you can see the blank canvas: an all-but-forgotten shell of a once busy work van.
Dipa began by cutting a hole in the ceiling of the van and installing a custom skylight, because no van build is complete without some sunshine! He then installed a solar system on the roof to supply his electricity. Before you ask, the answer is: yes, he did do this all himself. He's quite talented, and if you're planning on building your own tiny home on wheels, you might consult professionals about electricity, plumbing, and waste management if you're uncomfortable (or unqualified!) doing it yourself.
After much planning, Dipa continued on to frame out the floor. This was all done according to his detailed plans for where cabinets, seating, and his bed would be placed.
He started by framing the floor, adding the various compartments and drawers for storage.
Then he framed the interior walls and added the wood paneling.
The finished product is nothing short of extraordinary!
He then framed the interior walls and added beautiful wood paneling to make the inside of his DIY mobile home look like just that: a home.
When building a tiny house, space is very much the most important thing to keep in mind. Because the idea is to maximize efficiency of all areas, things that take up a lot of space tend to be convertible for other uses. You can see below that Dipa has a large, full-length bed made of pillows and linens.
A detachable hammock seems like a perfect idea for the small space.
Pillows and linens arranged to provide a full-length bed when needed, or rolled up to provide a relaxing couch when he isn't sleeping.
A comfortable place to sleep is of course a necessity in any home, but it also takes up quite a bit of room. To re-capture that precious space when he's not sleeping, Dipa rolls up his sleeping quarters, and his bed is instantly transformed into a cozy couch. What was a bed for one becomes a couch for five or six, with room for VIPs (very important pooches) below on the floor.
Traditional prayer flags, hindu bells, a curtain, and other yogic decorations bring personality to the inside. And the skylight is just perfect.
There's enough room to enjoy a cup of tea with five or six friends.
There's even a cozy wood burning stove used for heating water, and providing extra warmth when needed.
This stove is unsurprisingly dual purpose: it will provide some much-needed heat in colder months, and it can be used as a stovetop for some light cooking or for heating up water for tea or coffee.
A beautiful handmade entrance offers a hint of what's behind the subdued white exterior of the van.
Pictured below is Dipa's full kitchen set up, complete with counter space, a sink, and below-counter drawers. You'll notice his storage containers are kept up on custom shelves and secured to prevent them from moving around when the van is in motion. When building your own van home it's important to keep in mind that anything that can move around will move around when you're driving unless there's some way to secure it. Bungee cords work will in many cases, or you get fancy like Dipa did here and build custom shelves with racks to keep everything in place.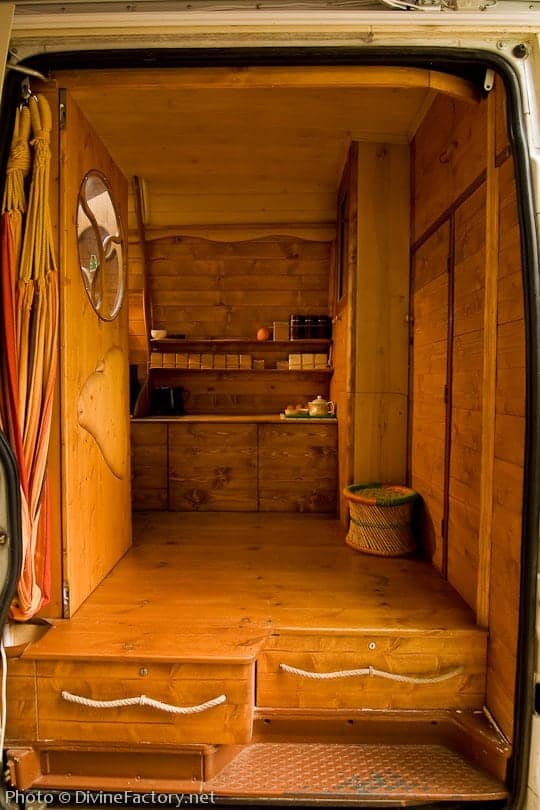 The rear of his van opens up to reveal a beautiful painting of the Earth (fitting for a van named "Earthship"), and a fold-out platform for sitting and enjoying the sun also doubles as a door to more storage. He amazingly has space for a bike in here with room to spare!
When writing inspiration hits or it's time to get to work, Dipa can head to the passenger seat which has been outfitted with a beautiful wooden desk, perfect for a relaxing work space. To keep that space cool and out of direct sun, Dipa drapes a beautiful blanket over the windshield for some added privacy.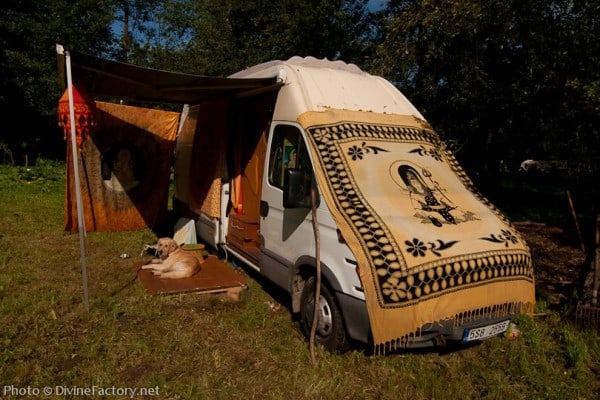 While the interior of his van build is gorgeous and serene, he spared nothing to put together an equally beautiful exterior as well. Check out these custom wooden doors, all handmade by this amazing DIYer, and note that the steps into this mobile getaway double as storage drawers. You have to love the efficiency of space here!
A neatly arranged slim shelf holds various tea canisters.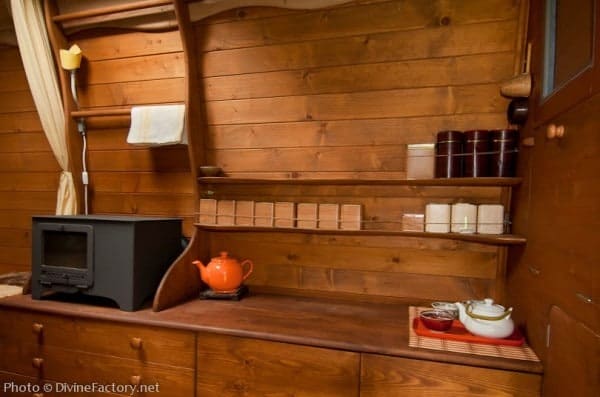 And while you're at it, make some space for your hobbies! Dipa built a hidden cabinet beneath his bed/couch/dining area specifically for his musical instruments. Who said you can't jam a little bit while enjoying life on the road?
And as if the use of one space for a bed, a couch, and storage for his instruments wasn't enough, he can also convert the rear of his van to an even more private spot to work or relax.
For Dipa Vasudeva Das, every piece of this handmade vessel displays a mindful purpose. He brings a spiritual philosophy to his work, keeping in mind the love and attention that goes into his work makes the final result ever more special. Clearly he was able to infuse every inch of this tiny rolling home with his personality, and he brings that sort of attention to detail to every project he creates.
To learn more about his creation visit http://www.divinefactory.net/cs/earthship