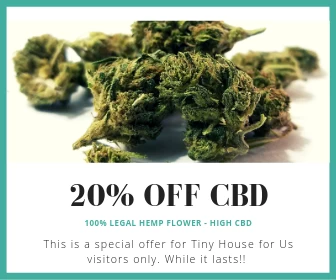 Installing a garage alongside your shipping container is a great way to protect your automobile, use it as a workspace, or simply have more area for storage. While a shipping container garage may be less tall and broad than a traditional garage, they come with numerous benefits that coincide well with tiny home life.
Shipping container garages can be set up within minutes of delivery. So if you need something fast, shipping container garages are an excellent option. If you are using multiple shipping containers, cutting out walls and locking multiple containers together can take as little time as a weekend. Plus, since the shipping container already has a base, you do not need to wait around for concrete to be poured.
Secondly, shipping container garages are generally priced neutral compared to traditional garages. A DIY shipping container typically costs around $6,000 and $1,500 for the garage door. A conventional steel garage is about $5,500 and $2,000 for the concrete floor.
These garages are also very portable. If you foresee moving or needing to travel, disassembling and reassembling these garages is relatively affordable and straightforward.
Lastly, shipping container garages are one of the most durable options on the market today. A standard garage steel kit comes with metal about .0179 inches thick. Shipping container sheets are about 3.5 times thicker at .0629 inches wide.
Shipping container garages are an extremely effective and smart way to build a garage for your tiny home. This blog post will highlight some of the best shipping container garages we have seen yet!
Shipping Container with a Four-Car Garage
This two-door garage is a typical shipping container garage design but slightly oversized. This homeowner has combined three 40-foot shipping containers to create a 40 by 24-foot space. The homeowner cut out the shipping containers' internal walls and created two 16-foot wide entrances on either side to make a four-car garage. This design can easily be cut in half to create a two-car garage.
Covered Shipping Container
A covered shipping container is a good option if you want to add vertical space to your garage. Here the design took two shipping containers and removed their roofs. Then the builder will create a custom metal structure to serve as a roof over the two shipping containers. You want your root to be over 20-feet high; you will likely need to use beams. You will be hard-pressed to find a roof that could stay sturdy without beams at that height. The roof pictured above uses a particular corrugated metal arch. Or, a homeowner could try a tensioned fabric awning on top of the metal supports. There are a few ways to create a higher roof, but the overarching theme is that shipping containers will form the base.
Open Sided Container
This design is a bit untraditional, even in the world of tiny house shipping container garages. For example, a homeowner would not cut a garage door into the container in this design. Instead, it would use an open side of the shipping container. Unfortunately, an open-sided container is about twice the cost of standard shipping containers. But, if you have the financial means and desire for this garage option, an open-sided container could be right for you. Plus, like the other designs, you can combine multiple containers to create an expanded space.
Shipping Container with Car Port
With a budget of $4,000, this shipping container with a car port was created by a Texas couple. This is an excellent option if you live in a more temperate part of the country and are looking to simply protect your vehicle from the sun rather than winter weather. In this design, the couple's car is blocked from the sun, and they can use a 40-foot shipping container as garage storage and workspace. They purchased the picture shipping container for just $2,900. To keep the garage cool in the hot-Texas weather, they bought a solar fan for $200. The owners knew they ranted their shipping container to be slightly off the ground to include a ramp for their motorcycle. Therefore they purchased a few pieces of concrete blocks and installed a simple ramp. This is a simple design that has served the family exceptionally well for their needs.
A Shipping Container Garage Connected to a Shipping Container Home
This shipping container garage is particularly interesting because it is directly connected to a shipping container home – much like a traditional home. The owner took two shipping containers and placed them parallel. He then covered them with a custom roof to add more space. One shipping container had one wall removed to combine with the vertical space and form a multi-room living space. With both walls intact, the other shipping container serves as a garage that can be accessed from the inside of the shipping container home. They also installed a beautiful deck that spans the width of the home and garage. This home was designed by Back Country Containers who are based in Texas.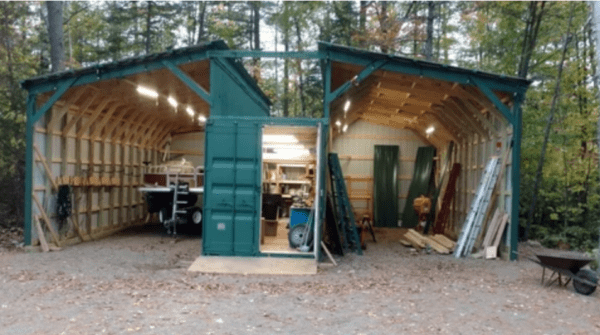 Two-Car Garage with a Workspace
The design above used three shipping containers to create a two-car garage with an internal workspace. As you can see, the three shipping containers are lined-up next to one another. The interior walls were left intact, except for garage door cutouts on either side of the center shipping container. The middle shipping container was left whole, except for two door cutouts to access either side of the garage. This design is great for storing your cars but still allows for a separate work or storage space.
As you can see, investing in a shipping container garage is a great option for any type of tiny home. They are incredibly durable yet easy to move if you plan to move. Additionally, they do not cost any more than a traditional garage. Plus, they can be set up and ready for use within minutes of delivery. Whether you need a one-car or a four-car garage, shipping container garages are an extremely practical way to protect your vehicle or provide additional work and storage space.