The weeHouse stands out from other prefab models because of its incredible flexibility. You can start small with just one unit, and if you happen to birth a few children and need more space, add a second or third one to the mix. Individual units can be combined in a half-dozen ways to create a single-family home with anything from 300 to 2,400 square feet of floor space. And they're not limited to that: dozens more can be put together to create multi-unit condominiums. The company behind these is Alchemy Architects, a Minnesota design & build firm headed by Geoffrey Warner and Bryan Carpenter. With more than a decade of experience they have made the weeHouse modular system a cornerstone of the business.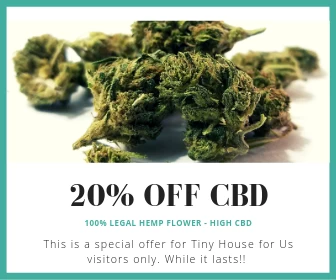 Below you can see a couple variations of the weehouse, and learn more about how its constructed.
Marfa, TX
This one is 440 square feet, and was delivered fully furnished and with an accompanying shed that houses the hot water heater.
The Arado, in WI
This 336 sf model was one of the first ones produced, at a cost of $66,000. It's owned by a Minnesota Orchestra member who wanted a peaceful offgrid retreat for her small family. They situated the house on a prairie outside Lake Pepin and enjoy it year-round.
The interior is simple, spacious and functional, with floor to ceiling glass windows providing a great view of the surroundings.
The McGlasson, in Two Harbors, MN
This one is a bit larger, at 756 square feet, and it includes two bedrooms and a rooftop deck. Inside you'll find an IKEA kitchen, maple floors, and plenty of custom cabinetry made by the owner.
These small homes have expansive decks to relax upon, always valuable when you have a limited indoor space

There are also countless options for every size and layout. Siding can be silver, white, black or oxidized steel, wooden corn crib style, or anything else the buyer requests. Hardwood flooring is available in driftwood, bleached, limed or ebonzied oak, and several other varieties. There are a multitude of choices for kitchen cabinets and countertops, and the kitchen itself can be arranged in a U, corner, straight or island pattern.
Alchemy builds the weeHouse modules at its factory and arranges with a local contractor for site work and finishing after a unit is delivered. The whole process takes about nine months, so there's a significant time savings in comparison to traditional onsite construction, which can take over a year. Alchemy also says that constructing the weeHouse in a climate-controlled factory setting with less moisture results in improved sealant adhesion and ultimately a tighter building envelope, as well as fewer mistakes and more consistent on-time delivery.
Photos courtesy Alchemy Architects
Though the weeHouse might be small, the costs can vary greatly depending on the size and options, and range from $110,000 for a 300-square-foot model to almost half a million dollars for a high-end 2,400-square-foot unit. The question for prospective buyers therefore seems to be how to balance the quicker completion time and superior build quality against the inevitably decreased customization of even a prefab dwelling as flexible as the weeHouse.
For more information and to see other versions visit http://www.weehouse.com/