Aneides Tiny Homes is a new Asheville, North Carolina, company founded by Greg Sours, a second-generation homebuilder from the Shenandoah Valley. This is their first build, the 192-square-foot Carolina.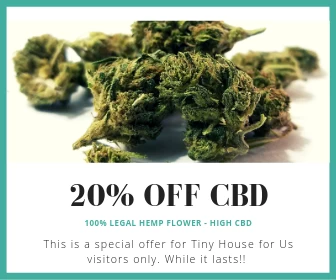 The floor plan emphasizes storage space over leg room – there are two large closets, plus storage in the stairs and under the couch – and the dark stained wood contributes to the cozy feeling. If you'd prefer things a little lighter, Aneides has also done a similarly laid out but slightly smaller house called the Shaker using blonde wood to brighten up the interior.
The kitchen has a big U-shaped counter and appliances built into an impressive bank of cabinets.
Beyond it is the surprisingly large bathroom, which has a full-sized bathtub and (again) lots of cabinet space.
Greg even managed to fit in a perfectly respectable home office!
At the top of the stairs there's a sleeping loft with a queen bed; it's kept semi-private by a low wall that holds a 32-inch flat screen TV. In the ceiling above the bed is a hatch that can be opened for ventilation or stargazing.
No word on how much a finished home sells for, but you can buy the complete blueprints for $350.
h/t Tiny House Talk