Here's a breath of fresh air and a ray of sunshine from Alabama builder Clayton Tiny Homes. It's a 450-square-foot cottage called the Saltbox, and while the 270-degree view from its living room practically begs for a Gulf Coast beach placement, Clayton will build you one anywhere you'd like in select Southeast and Midwest states (see their website for scheduled availability). They'll even work with your local zoning authorities to make sure all the paperwork's in order. They don't have any exterior photos up yet, but with a standing seam metal roof topping vertical ship lap siding over a horizontal board and batten skirt the Saltbox should look every bit as good outside as it does inside. If you like what you see below, you can also take a 3D tour here.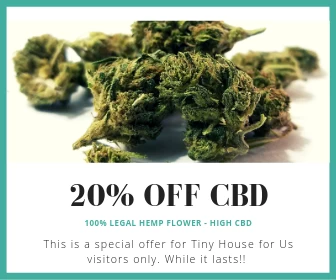 With top-to-bottom windows on three sides, the large living room makes a lovely place to sit and soak in the sun and scenery.
Beyond the kitchen peninsula, there's room for a six-seat dining table.
Cabinet and counter space galore!
The bathroom continues the clean, white color scheme and holds a full size vanity sink, flush toilet, and tub.
h/t Tiny House Talk