During his NFL career, Deion Sanders won two Super Bowls and set the record for non-offensive touchdowns. Now he's probably set some kind of record for downsizing, going from 29,000 square feet to just 600 in this Texas luxury cabin built by John Weisbarth and Zack Giffin of Tiny House Nation. "Prime Time" and his longtime girlfriend Tracey Edmonds designed it together with the Tiny House Nation crew and plan to use it as a private retreat for getting away from it all.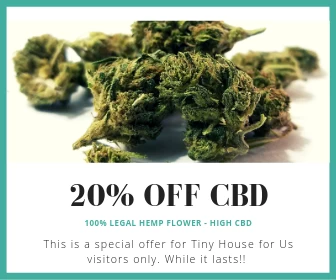 The porch offers another 600 square feet of covered space.
The living room, decorated in the couple's favorite colors of red, black and grey, focuses on a chimney holding a huge flat screen TV above the fireplace.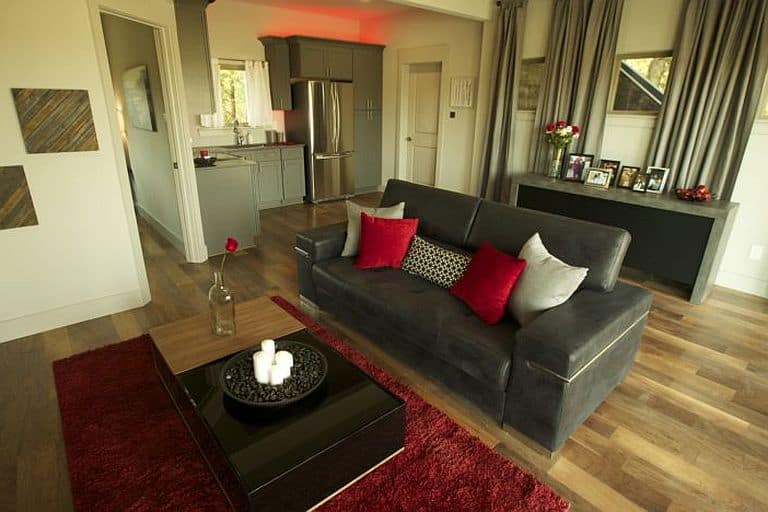 Neither Deion nor Tracey does much cooking, so they asked John & Zack to deprioritize the kitchen. (Personally, we'd love to have our kitchen deprioritized like this!)
"Skimping" on kitchen space did leave room for a big bathroom with dual sinks and an open shower stall with multiple shower heads.
The bedroom is simple, sophisticated and spacious.
The roof deck gives Tracey a beautiful place to practice yoga, and it's also an outdoor movie theater: The awning folds down to become a screen for a projector hidden in the chimney.
For more tiny houses of the rich & famous, have a look at country star Dierks Bentley's Airstream or MLB pitcher Daniel Norris's VW van.