We've seen some wonderful cabins from Washington's San Juan Islands, and now we'll have to add this 610-square-footer on Orcas to our list of favorites. Constructed from hand-milled, 100% local lumber and insulated with (presumably nonlocal) denim, it's located on the highest point of a secluded forested hill but is only a block away from town and the beach.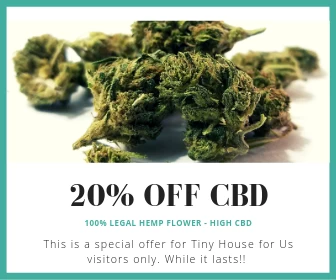 The cabin is currently for sale by Sotheby's for $440,000. (If that seems a little pricey, just think back to the $1.8 million Prentiss Architects Eagle Point Cabin on nearby San Juan and count – well, your blessings; the San Juan Islands obviously aren't the place to be counting your pennies.)
Tall windows in front give a view of the water through the trees.
The interior is very open, and can be made even more so by opening up the sliding wooden doors to the bathroom and bedroom.
Huge as the farmhouse sink is, there doesn't actually seem to be much provision for cooking here, which suggests that this would be more suitable as a vacation home than a full-time residence.
Even if you might need to call in a caterer, there's certainly ample space for entertaining.
The bathroom has its own sink, as well as a lovely claw-foot tub which you can also shower in.
We thought it was bad luck to leave a hat on the bed?
h/t Curbed