Your next getaway just got cute.

This sweet little cabin in Waco breaks away from sleek minimalist perfection to envelop you in its cozy charm. Modern touches throughout saves the space from becoming too sweet, proving that a homely feel is possible no matter the space.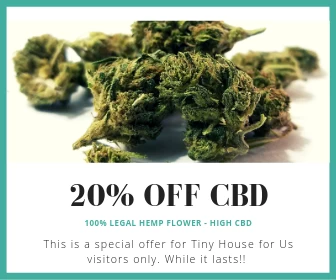 It has one bedroom, a practical kitchenette, calm living space, and includes all needed amenities. (Read – coffee maker!) The perfect romantic getaway.

If this looks like your kind home, let's see what tiny house design tips we can glean. 
Choosing Traditional Still Works
The beauty of modern tiny living is that while living spaces are small, it is huge on creativity. Design is always centered on practical as well as personal preferences. Preferred living if you will!
A professional home design usually starts with a detailed brief of needs and preferences. So before jumping into a trend that looks impressive and excites you, make sure to think things through. Especially for a personal space like bedrooms.
In this case, the bedroom is quite spacious and private. While an open plan loft bedroom is undeniably free spirited, there are still many that prefer to escape to the solitude of walled privacy. With its window bench and comfy cushions, this is the perfect weekend stay-in space for colder days. It fits a queen size bed with pedestals.

Tied together with serene coloring and comfy queen sized bed, this room is a private haven!
Well Equipped yet not Cluttered

White walls, curtains and ceilings keeps the space balanced and from feeling cloistered. Pops of red accents and greenery, with the themed accent walls adds to the homey feel.
Note how plants, books, shelves and modern wooden block stands with lamps create a personalized touch.

Storage spaces like the white cube shelves behind the kitchen counter is another balanced choice, since everything is easy to reach and does not close the kitchen by overdoing the wooden cabinet doors .
Tying it All Together
The rustic exterior compliments the surroundings and appears inviting, comforting. And what better way to have a romantic morning coffee than in those rocking chairs?
That being said, if you are inspired by this design with permanent tiny house living in mind, a few things should be considered.
While the simple front porch melds with the woodsy surroundings, it could do with a bit more thought. Take into consideration that the house itself does not open up to its surroundings much. You might want to add a dimension for entertaining friends.

The kitchen, while well thought out for a weekend getaway, would lack the capacity of a more permanent lifestyle. A bigger fridge and cooker would be needed. Remember, tiny living doesn't mean shrinking everything. If it won't function for you, living will be less than fabulous.
It can be found to rent on Glampinghub if you happen to be in the area.