Sauvie Island is sparsely inhabited island roughly the size of Manhattan, home to some of our favorite tiny houses and serene farms like the one you see here. This 300-square-foot bed-and-breakfast on an organic farm offers a serene pastoral setting for guests who want to ecsape the urban bustle of Portland. Located just a short drive from downtown Portland, it's available to rent for only $100 a night plus $8 for a farm breakfast of fresh milk, new-laid eggs, and homemade bread and jam. That's no more than the downtown Econo Lodge and considerably less than a lot of other Portland hotels, so it's definitely worth thinking about if you'll be traveling to the city.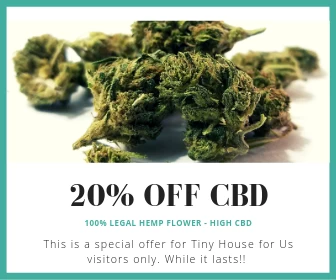 The cabin has a simple, open-plan design that makes the interior feel a lot bigger than it is and provides great views from everywhere in the house through the many large windows. Guests can see Mount St. Helens and the Cascade Range far off; vineyards and orchards in the middle distance; and a numerous chickens, cows and sheep up close. Inside are a bathroom, queen-sized bed, kitchenette, dining table, sofa and flat-screen TV.
Outside, the cabin is connected to the owners' house by a deck (where they've been known to share a beer or two with visitors). Half a mile away is a small mom-and-pop grocery store where you can buy local wines, beers and excellent organic produce from some of Sauvie's many farms. The attractions of St. John's and Portland are just four and ten miles farther on, respectively, and the owners provide out-of-town guests with maps to some of their favorite places in those cities.
You can learn more about the cabin and make reservations at Airbnb. Judging by all the glowing 5-star reviews you'll be in for a treat. If you like this cabin, you should also check out this stunning remodel, owned by Jessica Helgerson, also located on Sauvie Island.