The sloping roof on this 585-square-foot Oregon cabin feeds rainwater into two large collection tanks on either side of the structure, and also makes for a very high ceiling in the living area. The open interior plan adds to the sense of spaciousness, with the kitchen, dining, living, and sleeping areas all merging into one another with no divisions. Designer Rainbow Valley Design and Construction also included a large and elegantly-tiled bathroom complete with a tub that looks like it belongs in a five-star hotel.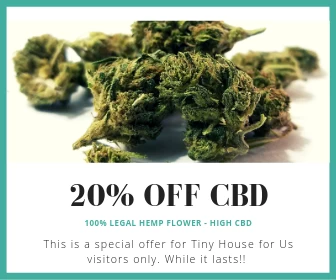 Large rainwater collection tanks flank each side of the home.
High ceilings and plenty of room to move around characterize the open interior. It looks like there's a loft above the kitchen, but we couldn't confirm what the space is used for.
Rather than adding walls for the bedroom, they positioned a simple platform bed behind the living area.
The bathroom does look a little more hotel than home – quite a good hotel, though!
h/t Small House Swoon, Rainbow Valley Inc