At 800-square-feet this cottage isn't tiny, but I wanted to share it because it shows off a beautiful design that makes great use of a small space, incorporating a lot of design elements worth noting. Bay area architect Cathy Schwabe designed this home, which can be found situated in a remote location among the redwoods in Mendocino County. If its style looks familiar, you might recall we featured another home she designed which displays a very similar look and feel, with a similar rustic exterior and big open space inside.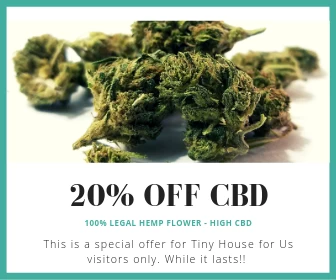 The beautiful exterior marks the high quality finish that carries through the entire house, and is made from locally harvested Red Western Cedar arranged in a board and batten style cladding.
The kitchen and dining area reside on one end of the house, with the space stretching across the length and opening into a living/seating area. No matter where you're located, in the bathroom, bedroom or living room, there's a long stretch of space extending into another area of the house.
On the inside one of the first thing you'll notice are the high ceilings, which offer a sense of vertical space in the main living room that extends into the open kitchen. Light spills in through the clerestory windows, reflecting off the white ceiling and brightening up the place.
Photography courtesy David Wakely
A 2-in-1 washer dryer combo resides in the bathroom, and is just one of the high efficiency touches in the house. There's on-demand hot water, low use water fixtures, and a very efficient furnace that heats the small place.
If you're interested in plans for this home, and want to learn more about its design they are available on houseplans.coms and you can visit Cathy's website to learn more about her architecture.