The rise of the digital nomad is continually transforming how we work and live. Tiny homes on wheels are quickly gaining popularity, and provide digital nomads an affordable way to travel. Tiny homes on wheels come in all shapes and sizes and can be purchased anywhere between $9,000-$150,000. Luxuries like heated floors are more affordable in tiny homes on wheels than traditional houses, and owners will significantly save money by purchasing a tiny home on wheels rather than renting a classic apartment. Additionally, choosing life in a tiny house on wheels is more eco-friendly than building a full-size home, costs less to heat and cool, and is easier to clean. We've compiled eight of our favorite tiny homes on wheels for all budgets and aesthetics.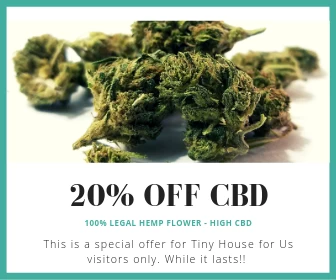 Luxury on Wheels
This 200-square foot home has more luxury and appliances than most full-sized apartments. If you're looking for a home that doesn't sacrifice the finer things in life, then this home is for you. The home sports heated floors, a skylight, on-demand hot water, and stunning bay windows. In a traditional home, these features would skyrocket the price. Yet this tiny home sells for just shy of $68,000. The sleeping arrangement includes a loft bedroom that fits a full bed and still has room for storage. Downstairs you'll find a complete bathroom that holds a wood bathtub. Do you have a tiny furry friend? This home offers a hidden and vented litter box – which is a luxury in any size home! This home could easily roll into a subdivision and no one would bat an eye with its beautiful northeastern craftsmanship. The home packs a lot of style in a small space.
A Winter Retreat
If you're looking to fight off the cold, and live off-grid, The Aspen from Borealis Tiny Homes is one of our favorites for staying warm. The Aspen's radiant floor heating is extremely effective, and offers an additional Lunos E2 heat recovery system if you're really looking to heat things up even further! The home offers a loft bedroom that is accessed via small steps over the kitchenette. Despite its size, the home has a full oven, hot water on demand, composting toilet upon request, and plenty of storage space under benches. In the intimate living space, you'll find a gel fuel fireplace to sit by and enjoy your coffee while watching the snowfall.
Belgium Hotel
Tiny Home Belgium was originally designed as an alternative hotel option in Oostkamp, Belgium. People loved the layout so much that tiny home versions were created. The home is tastefully designed and includes exterior stairs leading to a rooftop terrace. Inside, you'll notice large windows, a respectable kitchen, a dining area for two, a bathroom and shower, a living room, and a loft bedroom.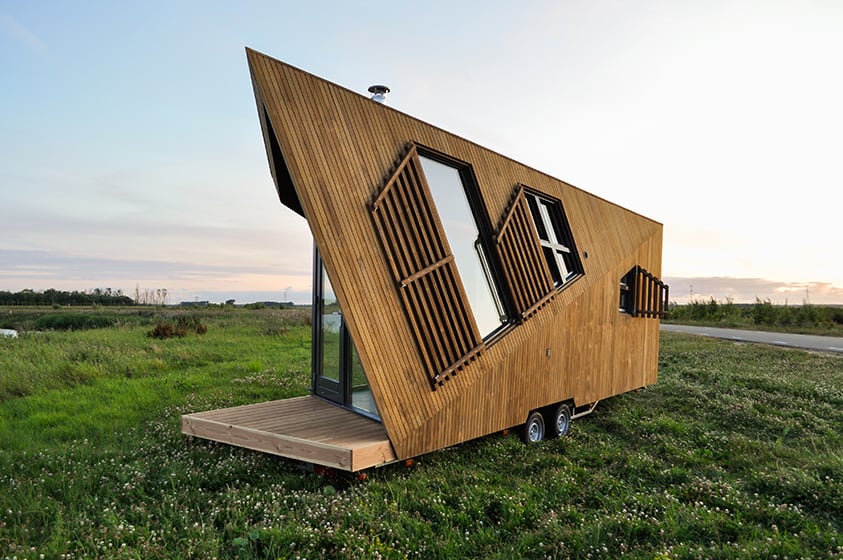 The Art Piece
Makatita was created by Liberté Tiny Houses. The 182-square foot home is more than a place to live – it's an art piece. The designers constructed this home to be reminiscent of leaves, to match their client's love of nature. The creases of the design, both internally and externally, allude to foliage folding in on itself. The slatted windows mimic light shining through dense forest. The inside continues the theme with minimalist and rustic designs. You'll find bench seating, a stunning heating element/stove, shower and toilet, foldable desk, and even access to rooftop seating.
The Mountain
The designer of this home, Cody Makarevitz, converted an old hunting cabin into a unique 150-square foot tiny home. He brought his love of stargazing into the design, with a skylight in both the loft bedroom and expandable shower room. The intimate space feels quite large thanks to both ceiling mirrors across the space and french doors opening the home up to nature. Makarevitz created this intimate mico-home for just $20,000 and sold it for $35,000. If you're interested in a home like this he is currently creating more designs!
The Nomad
If you're one of the many folks beginning their digital nomad life, The Nomad may be the home for you. The one-bedroom tiny home is perfect for a couple, but also has sleeping space for two young children. The home measures 165-square feet and includes a kitchenette, dinette for four, space for a washer and dryer, and bench space that can convert into a bed for children. Additionally, the home is stocked with off-grid capabilities that include a freshwater tank and solar package. Whether you're driving across North America or looking to set up camp in the wilderness, The Nomad is a solid option for a couple or growing families.
MiniMotives
You may recognize this home from our post on amazing tiny homes with decks. Not only does it have a fantastic deck, but it's a great option if you're looking to purchase a home on wheels! The entire space is 196 square feet and has room for two adults and two young children. The home sits on a gooseneck trailer and offers an intimate back deck. It has strong insulation, having proven its worth surviving multiple Boise winters. Owners of this design say the home only costs them $50 per month in utilities during wintertime and less than $10 in the summer.
A-Frame on Wheels
A-frame houses are a classic design that shows no sign of disappearing anytime soon. This home, Base Cabin, by Australia's Studio Edwards, is inspired by classic Airstream trailers. It sits upon a triple-axle trailer for easy transportation. It's 19 feet in length and offers three separate rooms, all on one level. Bi-fold doors separate the kitchen, bedroom, and restroom. A skylight hangs overhead adding the feeling of extra space in this intimate A-frame. Most people utilize this design as a traveling vacation home, but plenty of folks live in this design full time.
The flexibility of living in a tiny home on wheels has become extremely desirable in the post-pandemic world. The ability to work remotely plus owning a home on wheels allows people the freedom to move about the country in ways that were previously inaccessible to most. Additionally, tiny homeownership is helping owners become financially free from rising rents and cost of living expenses. If you're looking to travel more in 2022 or cut down on expenses, consider investing in a tiny home on wheels!