So many of us dream of living a in a small home, surrounded by nature, free from mortgage, electric, water/sewer, and other associated bills. Rowan Kunz is a young woman who achieved that at just 32 years young. Her inspiring story will no doubt help others who struggle to make their dreams a reality because it didn't come easy. She carried a load of student debt, and despite getting a new job as an elementary teacher she couldn't afford land, let alone a house for some quite some time. That didn't stop her.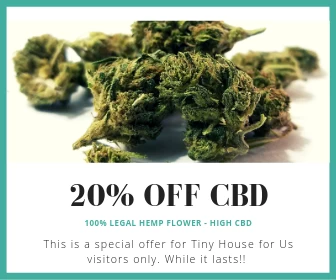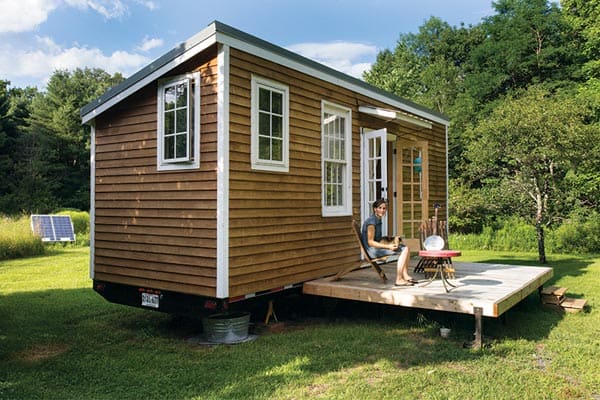 She conjured up designs and soaked in as much info from studying other tiny homes until she finally settled on a rough plan. One thing was for sure, she wanted to live off grid, without impacting the environment. She bought a 24′ trailer in the spring of 2012 and set to work on the sub-floor on Memorial day weekend. She completed much of the build herself, learning how to use various tools borrowed from her father's workshop in the process. It wasn't easy, and required a lot of problem solving mixed with a bit of cursing. When she needed help with certain aspects like the electrical and chimney situations, she paid a professional for consultation.
Having spent time in Kenya, she was fully aware of living simply, and after learning about the tiny house movement she decided to build her own tiny house on wheels, one step at a time.
We love the shower in a barrel! Water from the shower drains to to a gray-water system under the house and hot water comes from a camping shower rig.
In the end however, she created a beautiful and unique home. She installed bamboo flooring, pine boards on the ceiling and walls, and installed an old wood stove for warmth. In 2013 she moved into the unfinished home along with her cat, and would spend the coming months adding finishing touches to her creation.
A hand pump brings in water from the rainwater storage container.
The composting toilet is simple, but effective. 
She used ceiling panels to make one of the most stylish heat shields we've seen. The stove itself is installed on a floating steel shelf which adds some room beneath.
The stove does a great job keeping the place toasty during the rugged winter months.
By the looks of things we'd say she became quite the skilled craftswoman in the end!


Photos by Ken Gabrielsen | h/t HV Mag
The completed setup uses two solar panels to power the refrigerator, lights, and small appliance. All said and done she estimates it cost about $25k to build the home. We highly recommend checking out her blog http://rowanstinyhome.blogspot.com/ where she shares a huge amount of resources about her journey. It's highly informative and worth checking out.