It's called the "Cedar Park" home, but there's actually no cedar in this house – rather the house itself is found in Cedar Park, TX, a suburb of Austin. It does contain bamboo floors and pine ceilings however. Last year it was on the market for a very reasonable $25,000 (or exactly $100 per square foot). The owner built it on site in 2011, and while it's on a trailer he recommends hiring a mover to transport it. It has a nice, clean look inside, with an IKEA kitchen, bamboo floors and cabinets, and pine for the ceiling and trim. Although there's not much headroom in the sleeping loft, the kitchen/dining room and living room look quite adequate and the bathroom has enough space for a full-sized tub. There's a composting toilet at the moment, but the plumbing is in place and ready to add a flush toilet if desired; hot and cold water are already supplied to the shower and sinks.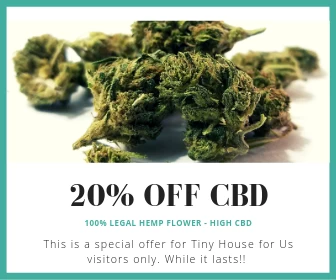 The bathroom is very nicely finished, and there's a full-sized tub behind the shower curtain.
A birds-eye view of the space…
The siding is 3/4 finished; it will be ready before it's sold.
Going to sleep means a climb and a crawl, but the ceiling fan keeps the loft well-ventilated.
Three separate rooms – and none of them look cramped.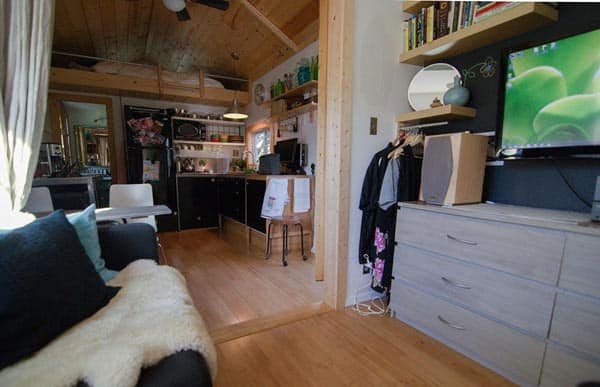 h/t Tiny House Swoon
At 10′ wide and 25′ long, the home comes in at 250 square feet, not including the loft. You can really see how a few extra feet in width and length make a tiny home feel much more spacious, and we think they did a great job with the design. What do you think?