Headline image by Hauslein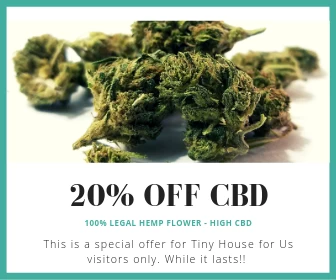 The items you need in a tiny house aren't that different from those you need in a regular house—except in one significant way. They need to be smaller. Or, if not smaller, at least designed to make the most use of the space, whether by being multi-functional or super compactable.
Essential tiny house items include everything you'd expect. A fridge, stove, oven, toilet, shower, water heater—as you're probably already aware, these are tiny house necessities. 
But what about those items that make living in a tiny house more convenient? Or make tiny house living extra fun and unique? Those items that every tiny house owner should invest in, just because?
Blog articles that list tiny house essentials are everywhere, from the best tiny house kitchen appliances to the best tiny house bathroom accessories. And you'll have no problem tracking down lists of the best tiny house furniture either. 
But we've compiled a list of those items you probably didn't consider yet. Those items you didn't know you needed. Items that are a little off-beat, a little overlooked, and, yes, a little extravagant.
We're not saying that tiny house living is impossible without these items, but it's definitely a lot better with them.
8 items every tiny house owner should own
1. Pressure cooker
We promised this list wasn't going to be just boring essentials. But pressure cookers are actually anything but boring. They can make seriously delicious and nutritious meals using way less power as well as saving you time and energy in meal preparation and washing up.
Programmable Pressure Cooker with Stainless Steel Pot
This 9-in-1 pressure cooker can slow cook, sauté, steam, make cakes and yogurt, pasteurize, and cook rice—all in a single appliance. Download the app to get access to healthy recipes and videos.
2. Hanging baskets
Few tiny house owners remember to take advantage of the ceiling as a means of storing things. But when space is at a premium, you need to think outside the box.
Space Saving Hanging Chain Basket
Use these hanging baskets to store anything from fruit and vegetables in the kitchen to your car keys, wallet, and other everyday essentials. Unlike a shelf, you get a 360-degree view of the items inside which allows you to find whatever you need quickly and easily. They also add some rustic charm.
3. Bedside organizer
Bedside tables tend to be a dumping ground for random odds and ends and quickly become cluttered and messy. Not to mention the fact they take up valuable floor space in your tiny home.
Wall Mount Self Stick on Shelf Organizer
Instead, opt for this wall-mounted bedside organizer where you can store any night-time necessities such as your phone, glasses, or earplugs. It hugs the wall nice and tight, taking up minimal space, and is also incredibly good value for money.
4. Portable washing machine
Washing machines can take up a lot of room. But going without one means endless hassle. Who wants to haul their dirty laundry to a laundromat on a weekly basis?
Portable Mini Twin Tub Washing Machine
Instead, opt for this mini washing machine with a 13 lb capacity. It even includes a spin dryer, making it the perfect practical addition to your tiny house or RV. There's one tub for washing and one tub for spinning—and it's lightweight and portable. Simply tuck it away in a cupboard when not in use. 
5. Inflatable hot tub
OK, enough of the practical investments for now. Time for those items that are here to make life more exciting.
First, check out this inflatable hot tub. It's ideal for the summer months. With enough space for four people, the tub features classic hot tub bubbles for a dreamy massage experience, a rapid heating system that brings water up to 104 degrees, and integrated water filtration.
Round Inflatable Outdoor Hot Tub
Imagine kicking back with your three best buds and a couple of beers on a warm evening. It's easy to move and assemble so when you're done, simply deflate and stack it away, ready for next weekend.
6. Projector
Does a TV take up too much space in your tiny home? But you miss movie night? This mini projector is the perfect alternative. You can connect it to your smartphone directly (or a range of other multimedia devices), allowing you to stream whatever takes your fancy.
Mini Smartphone Movie Projector
At only 7.3 x 5.8 x 2.8 inches, it's definitely tiny-house friendly. All you need is a screen to project it onto so you can enjoy the 176-inch display. And, at under $100, it's a bargain.
7. Hammock chair
Hammock chairs are a great addition to any tiny house. They're super comfortable, look cool, and can be hung away when not in use. This one packs down to 15.8 x 10 inches so will hardly take up any space in your cupboard.
Hanging Hammock Swinging Chair
This is our favorite hammock chair thanks to the stylish macrame trim. And there's a choice of colors too. You'll never want to sit in a standard chair again.
8. Hydroponic garden
Not particularly green-fingered? This hydroponic growing system is about to change that. It's the ideal introduction to gardening as it requires no soil, making it ideal for those without an actual garden. Plus, it allows you to grow herbs year-round—even in the winter months.
Indoor Hydroponics Growing System
This hydroponic system is self-watering (great if you're a tad forgetful) and features a built-in grow light. It can grow 12 plants at any one time, providing a hassle-free way to add healthy home-grown herbs to your meals.
Tiny house living: the best investments
Sure, you might consider the compost toilet to be your best tiny house investment. Or your neat little solar panels. But what about those tiny house items that make your life easier, more organized, and more fun?
Hopefully, this list has given you some inspiration for ways to make tiny house living extra special. And if we had to pick just one item on this list for our tiny house? It would have to be the hydroponic garden.
There's nothing better than growing your own food and to do so in such a compact and cutting-edge way is even better. Plus having greenery in your tiny home will boost both air quality and your mood. It's proven by science 😉