Headline image by Fritz Tiny Homes via Tiny House Ideas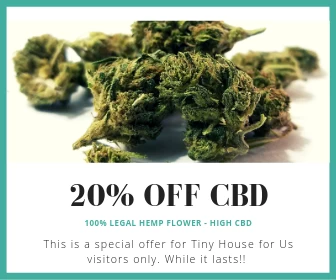 The majority of tiny houses have an upstairs of some form. Usually, it's a loft with a bedroom or study space.
But what's the best way to access this level of your tiny home?
In the past, most tiny house owners have opted for a ladder. Lack of floor space is one of the biggest issues in a tiny house so back when tiny houses really were tiny, a ladder seemed like the simplest and most convenient solution.
But these days, tiny houses are, ironically, getting bigger—some reaching up to 30 feet. These larger homes can definitely accommodate stairs. And stairs can be a great option if you have children, pets, or mobility issues to consider.
That said, are stairs too much in a house where space is limited? Would you be better off with a ladder, after all? What kind of stair and ladder options are there? Is there some kind of compromise between the two?
Here we explore the ladders vs. stairs tiny house debate. We've also included our 7 favorite tiny house stair and ladder solutions to get you inspired.
Stairs vs. ladders: what are better in a tiny house? 
Ultimately, whether you opt for stairs or a ladder is a personal choice. Both have their advantages and disadvantages. Consider your lifestyle and the size and design of your tiny house and make the decision that's best for you.
The pros and cons of stairs
Compared to ladders, stairs are far easier and more comfortable to use. Clambering down a ladder when you need to use the bathroom at night can become a headache. You can also use stairs as extra storage space or even as a spot to sit—plus they can be a cool design statement.
That said, stairs take up a lot more floor space (and require extra headroom) and are more expensive and complex to build.
The pros and cons of ladders
Compared to stairs, ladders have a very minimal footprint. They're also a low-cost and easy DIY build. Plus, they can be stowed away when not in use.
However, there's always the risk of falling down a ladder. Pets and children, in particular, may struggle. And have you ever tried to climb a ladder while holding a cup of tea or laptop?
7 great ideas for stairs and ladders in tiny homes
Now we've established that both stairs and ladders have their benefits and downsides, let's look at some of the best of both inside real life tiny homes.
These are the most innovative stair and ladder designs we've come across to help you with your tiny house building and design.
1. Spiral staircase
A spiral staircase has the advantage of being able to fit into tighter spaces. It can also look very elegant and romantic. But it can be a challenge to build yourself.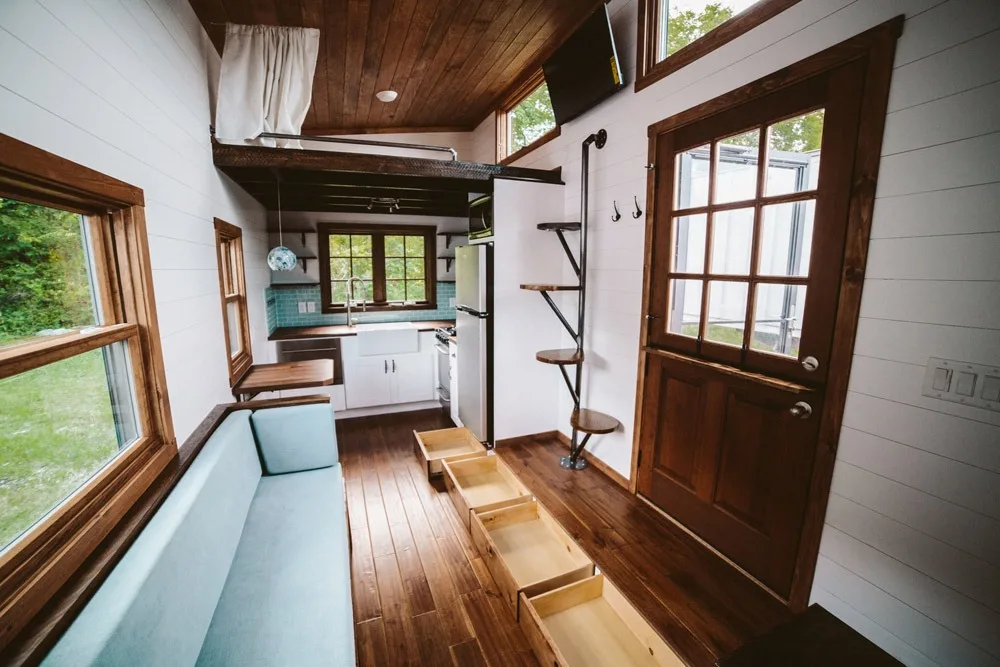 This spiral staircase is particularly creative—like a cross between a spiral staircase and a fireman's pole. It takes up next to no room, although we do wonder how easy it is to use!
2. Tansu steps
This is a Japanese concept that involves boxes, chests, or cabinets being used as stairs. Essentially, you make several of these structures, then stack them on top of each other to make your staircase. This is a great DIY project and you can customize according to your unique tiny house.
However, Tansu steps can take time to build. They can also take up a lot of space, although the added storage functionality may make it worth it. 
This particular stair solution has been smartly designed with integrated lighting which looks cool and makes it easy to check your footing at night. There's even a table that slides out of the stairs too.
3. Spiral stairs as storage
You could combine the idea of Tansu with the concept of a spiral staircase—as in this tiny house staircase design.
This one is ideal for those of you with limited foot space. Not only do you get heaps of extra storage but the staircase looks cool too.
4. Sliding ladder
Why not build your ladder on a sliding door that you can move backward and forwards as necessary? This makes it extra convenient—although you'd want some way of keeping the ladder still when you were climbing!
Plus, totally vertical ladders are much harder to climb than those at a slight angle.
5. Retractable ladder
A retractable ladder, aka a telescopic ladder, is a versatile and convenient alternative to a traditional ladder. You can make your own retractable ladder simply by sawing a ladder in half or into thirds and using hinges.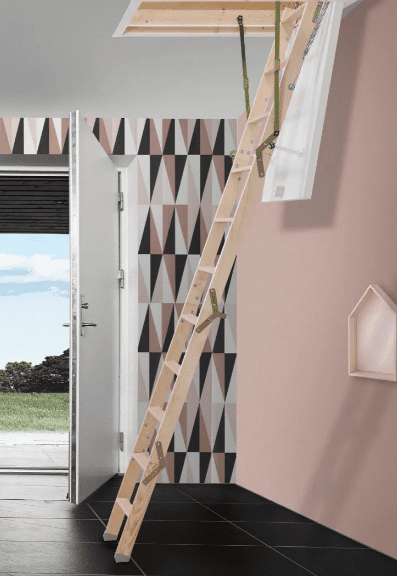 6. Floating stairs
These trendy stairs are when there are no supports between the different steps so they look like they're hovering in the air. They're not always possible to build in a tiny home but if they're small enough, they can be a great minimalist solution for homes with not much space.
You can see how cool they look here in this tiny house that has not one but two staircases—one set of Tansu steps and one floating staircase!
7. Pull-out stairs
We love the sleek and minimalist aesthetic of these stairs in this ultra-modern tiny house. The custom design is incredibly cool and contemporary and takes up the absolute minimum of floor space.
The stairs slide neatly out of the cabinets and there's also storage on both sides, including a generous-sized wardrobe.
Frequently asked questions about stairs and ladders in tiny houses
What size are tiny house stairs?
The size of your tiny house stairs will ultimately depend on the size and design of your tiny house. You can make them as wide and as steep as you want. That said, the International Residential Code (IRC) states that residential stairs should be at least 36 inches wide and the stair riser should be between 7 and 12 inches. The code also says you should have headroom of around 6 feet. DIY tiny house builders will often adapt these guidelines as necessary.
How do you build stairs in a small house?
To build stairs for a tiny house, first, decide on your design. Do you want stairs that also serve as storage? Tansu steps can be made by constructing a series of boxes. More complex designs include pull-out staircases and spiral staircases, both of which might require professional help. The simplest way to build stairs for a small house is to make a basic ladder.
How do you make a ladder for a tiny house loft?
Making a ladder for a tiny house loft is fairly simple depending on what kind of ladder you want. Simply measure the height for the ladder, cut the wood for the rails and rungs, and then attach the rungs to the rails. To make a folding ladder, you can then cut your existing ladder into three and attach hinges. A rope ladder is even easier to build.