When minimalism is your goal but you really cannot wrap your head around it by yourself, a little advice helps a lot.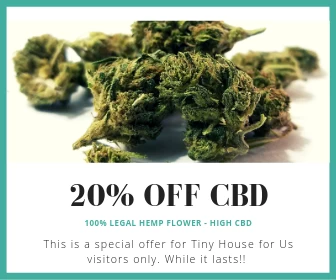 Grace, a health and mindset coach helps people do just that – scale down and live with purpose. Together, she and her Fiance, Ryan really made the most of their tiny home, so we contacted Grace for some valuable insight.
You will find Grace on Instagram @inner.grace, advocating quality purchases over cheap buys. We asked her about the best purchase they made for their tiny house that was under $200?
"This is a great question! And kind of difficult to answer because most of the items in our house have been under $200 or we have made ourselves. But I would say that the best item we invested in for our house is our Vitamix blender which we bought off of Craigslist for $175!"
"I wanted something that was high quality and would also be versatile. Because we live in such a small space, we have very limited kitchen tools and appliances. The Vitamix is something that I use for a blender, a mixer, and also a food processor! It is something that I use almost every day."
She also talks about carefully choosing what to bring into the space and that for her, one thing she had to do was going big on plants. So we wondered what other things she could not go without.

"In my house, I have chosen to go big on plants, windows, and good lighting. These are all the things that are very important to me in a space and really make me feel relaxed and more creative. All my other possessions I have majorly downsized such as my books and clothes. Tiny living for me is about limiting my possessions so that I can choose to go big on experiences."
And we simply love the way they have incorporated these aspects to create a stylishly warm and restful space.

What is her best advice for not killing plants? (Or does she naturally have green fingers?)
"Believe it or not, 3 years ago if you were to give me a plant I would have probably killed it within a day! (My fiance, Ryan, likes to tease me about this ?) But one day I consciously decided that I would get better and the rest is history."
"My best advice for not killing plants is to do a little research on the type of plant you have in order to get a general sense for how to care for it best! Some plants need more water, more sun, etc. And to be honest, I just go around and check my plants every day and then let them do their thing for the most part"

So, plant killers, you DON'T have to have those notorious green fingers to have your lovely plants. Great news!
About challenges and sacrifices they had to make
"One challenge we've faced after going tiny was figuring out how to fit both an office space and a couch into our living area! We do have a desk, but it only really fits one person at a time, so I have had to get creative with my work space and work from different areas in our house such as our kitchen table and loft area."
We asked for some insight on living with better quality things, instead of having more
"Before tiny living, I had A LOT of stuff. I had laundry baskets full of shoes and several dressers worth of clothes. But most of what I had, I bought on whims because it was cheap or there was a sale. Downsizing and living tiny has really allowed me to take a hard look at what I own, and make more conscious decisions about what I bring into my life. Because I own less now than I ever have, I'm able to save money and invest in quality items that will last. Instead of buying 20 cheap shirts, I buy one shirt that I love and that is higher quality."
For couples hesitant to live in a tiny space, Grace and Ryan advises
"Communication is really important for any relationship, but it is especially important when living in a tiny house together because there is no escaping each other and because tiny living really forces you to work together in new ways. Expect little things to come up, like being upset about your partner leaving their stuff out, etc. But always talk it out and never go to bed angry at each other."
When you are renting land, they have some valuable suggestions

"It's important to do some research on the area you're renting (zoning laws, etc.) and also ask your potential landlord a lot of questions. It's really important to make sure that you're both on the same page about your living situation. If you're looking for a place to rent, word of mouth, tiny house forums/meetups, and Craigslist are all good ways to go. But be careful!"
We had to ask for some tips in coping with (really) tiny kitchen life!
"Our kitchen is very tiny! ?For us, it is important to utilize all the horizontal space that we can. So we built a little fold up table that we use for food prep and drying dishes. Something else that we try to do is doing our prepping and cooking on different days. Taking an hour to prep and cut up a bunch of veggies/food to cook a different day saves a lot of time and space."
Grace and Ryan's best organizing and cleaning tips

"If you can, store things where you can SEE them. We have open shelving for our clothes and in our storage loft which motivates me to keep it organized as well as take stock of what we have."
"Develop small habits to tiny up and keep your space clean every day! For example taking 10 minutes every night to tidy up instead of waiting to do all the cleaning on one day. At our house, we take time to tidy up/do the dishes every night and then on Sundays we do a deeper clean."
There you have it. Cutting down is hard, but just look at the beautiful results. Motivation, sorted!