Here's a simple yet entirely complete guest cottage from Bainbridge Island architect Russell Hamlet. And it floats, which presents a minor problem of nomenclature – we're not sure whether to call it a guesthouse boat or a guest houseboat. No matter though, because whatever you call it, one thing's for certain – it would make the perfect little home for just about anyone.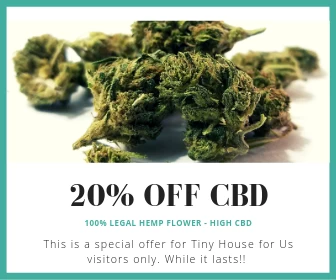 It's particularly interesting because the design stands out from traditional houseboats. With its peaked corrugated steel roof with a dormer it look a little more like a "real" house. Inside it makes use of vertical space for a high ceiling and a sleeping loft accessible by ladder.
In some tiny homes with 250 or fewer square feet, finding that extra space to stretch out or hide a few items out of sight can be a challenge, if not impossible. But with a little over 400 square feet, these owners have plenty of different places to sit; there's a couch in the living room, a restaurant booth style dining table, and a dedicated work desk in between.
There's a lot in here, and none of it looks cramped.
There's even a good amount of extra space and headroom in the sleeping loft.
No need to clear the cozy dining table if you want to dive back into work right after finishing a meal.
The spacious deck is a great place to gaze out over the water.
The aquamarine tiles liven up what's otherwise a pretty understated design.
h/t Tiny House Talk
What do you think of this design? Could you see yourself living on the ocean instead of land? It's not for most people, but if you're the type that likes to feel the lull of water beneath your home, and the expanse of water beyond your deck, this could be an inspiring design for you.