The Journey is Alabama Tiny Homes' fifth build, and as an obvious evolution of their first, the Freedom, it's something of a return to their roots after the more experimental Trinity. Like the Freedom, the Journey has a simple but smart layout that lets it fit an awful lot inside without seeming to give up any space. High ceilings help with that, and so does pushing the storage stairs back into the kitchen. Storage stairs can be very useful, of course, but a locating a lengthy flight in the living room tends to take a big bite out of a THOW's narrowest dimension. Keeping them in the kitchen, where you're going to want lots of cabinets anyway, does away with that issue, but there's always a trade-off: The Journey has a little less counter space than the Freedom. Living room space, though, is maximized – and even more so because the trundle bed now rolls completely under the bathroom when not in use. (In the Freedom, part of it protruded as a small couch.)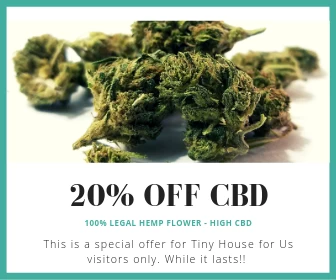 The Journey is priced at $71,000 base, but the unit you see here as a few upgrades, including the six-bottle wine cooler, flat-screen TV, convection microwave and spa-like glass shower stall.
The attractively knotty cedar paneling covers closed cell spray foam insulation; all windows are double-pane.
With no built-ins, the owner is free to arrange the living room to their liking.
The kitchen may not have an acre of counter space, but it has a ton of appliances. Besides the wine cooler and microwave, there's an oven, a 10.1-cubic-foot stainless steel refrigerator, and even a dishwasher!
A pre-loft landing lets you stand up while you're getting dressed; the loft proper can hold a queen bed.
Why do you have to step up to go to the bathroom? Because there's a trundle bed underneath it – and you'd never know if we hadn't told you!
The full-body panel shower head is one of the added-cost options available…
…the washer/dryer set is one that almost everybody's going to want.
There's even space for a decent-sized closet!
h/t New Atlas