Alabama Tiny Homes has created an unexpectedly interesting THOW in their new Trinity. Earlier builds from this relatively new company were well finished and reasonably priced, with fairly conventional interior layouts accented by flashes of creativity such as the living room trundle bed in the Freedom. The $69,000 Trinity is much more experimental.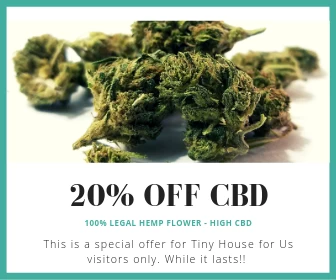 The surprise isn't that it has lofts at each end – that's common enough – but that they're both semiprivate and accessed by stairs. That puts a bit of a squeeze on the middle section of the 28-foot house, although not so much in terms of actual floor area; it's more that an illusion of openness is lost with the enclosure of the lofts.
However, once you settle down onto a comfy sofa in front of a fireplace and flat screen TV, 'cozy' quickly replaces 'claustrophobic' as the adjective of choice.
This very multifunctional feature is a kitchen / living room divider, a kitchen countertop, a dining table, and a laundry area all rolled into one. After you get used to having the appliances at the very center of the house, you'll appreciate how this allows space for a separate washer and dryer rather than a combo unit.
The kitchen lacks a full-size oven, but has excellent cabinet and counter space.
The bathroom, behind the kitchen and under the secondary loft, holds a flush toilet and a skinny sink and shower stall.
Here's the view from the master loft, which holds a queen-sized bed.
The other loft is basically a cubbyhole with just enough room for a twin bed, but a couple of windows save it from being too cave-like.