Their mission was simple – rent their existing "big" home, travel the country, check out the landmarks, and live comfortably on their own terms while on the move. This semi-anonymous couple, who go by the initials "S" and "B" built a tiny house that brings all the high end finishes and craftsmanship you'd expect in a high-end home. You'd never guess this was their first build, which they completed with little prior experience, using plans they designed themselves.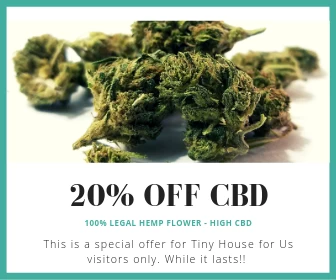 Hauling the 8′ x 18′ home in search of a new adventure.
When this couple started planning their tiny house in April of 2012 they also started a blog, Almost Glamping, and promised themselves they'd keep posting even after they finished building and moved in. But as S explains in her last post, the excitement of almost glamping has given way to the routine of daily living, and there hasn't really been that much to write about. If you think about it, that's actually a great testimony to the whole tiny house concept: living in a few hundred square feet can become so ordinary that eventually there's nothing more you need to say.
No, there's no bathroom behind the curtain; B & S didn't want one inside such a small home and built an outhouse instead. Notice the swivel ladder, a smart idea that keeps it out of the way.
The clean white interior keeps things bright and airy, and helps certain finishes like the light fixtures really stand out.
Livable, mobile, and just $13,000.
Visit http://www.almostglamping.com/ for more information.