Alpine's 30-foot gooseneck Animal is the biggest we've seen from the Utah builder, and while it's not exactly a mega-THOW, it's certainly in the upper half of the tiny house size spectrum.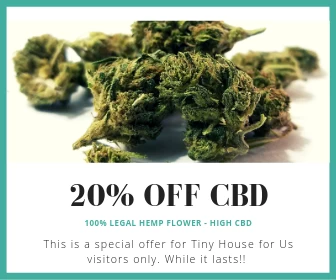 So why doesn't it look that way when you step inside?
The name points the way to part of the answer. The Animal is a custom build, and the buyers own two dogs and two cats. They needed some dedicated space for their pets, so the rear of the house has a dog kennel taking up one side of the living room. Up top, where you might expect an auxiliary loft, there's a cat play area which can be reached via a tree growing out of the kennel. (Some people complain about having to use a ladder to get to the loft; how'd you like to have to climb a tree? We'll bet the cats don't mind, though!)
The kennel has a dog door leading to a fold-down deck outside, so the dogs can be kept out of the main area altogether. The cats, however, will have the run of the place, and aside from the play shelf, there's also an area for their food bowls and litter box under the stairs in the bathroom.
Wait, stairs in the bathroom?
Well, that's the other half of the reason that the Animal doesn't look hugely spacious inside. Past the kitchen, the front section is a labyrinthine sequence of bathroom / laundry room, master bedroom, closet, and loft. It's only by walking through these (and then up onto the roof deck) that you get a sense of the Animal's real size. Each of the individual areas is fairly roomy; they're just separated up stairs and around corners so you can't see them all at once.
We've included some photos below, but given the Animal's layout they don't really do the place justice. Be sure to watch the video tour at the end to gain a full appreciation for this unusual but well-executed house.