All that glitters is not gold. Sometimes it's Golden – like this beautifully stunning tiny home from American Tiny House. To help it stay gold, Ponyboy, the 28-foot THOW has a 45-year standing seam metal roof and is built with premium lumber to qualify it as a virtually maintenance-free home. It's priced at $69,700 base, but that includes some features that would be added-cost extras in a lot of tiny houses: energy-efficient windows, custom cabinet work, and a full appliance package. Financing's available, too, and delivery is free to anywhere in the Lower 48. American can build one in 10 to 12 weeks; contact them here or call (903) 930-8500 for more info.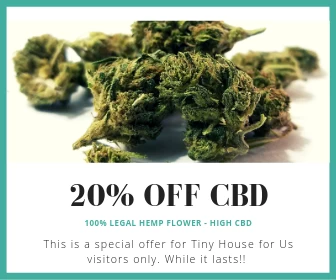 Clerestories and a double-paned glass door make up for the lack of windows on the ground floor.
There's a dedicated sitting area under the loft, while the dining table does double duty as a work desk.
Looking the other way, you (and the cat) can see the bathroom at the end beyond a fairly complete kitchen.
A washer/dryer is conveniently tucked under a cabinet.
If you simply must eat at your desk, why not do it in the comfort of your own kitchen?
The sleeping loft is large enough to hold your library – or your wardrobe.