Anita wanted a tiny house that was well built, environmentally friendly, and fabulous. With no construction experience and no one to help out, the pet masseuse and vertical gardening advocate decided that wasn't going to happen as a DIY job. Luckily she lives in Portland, Oregon, a community which isn't exactly lacking in tiny house know-how, and was able to connect with Walt Quade of Small Home Oregon to get her "Lilypad" on the road. Walt did some very nice work on an unusual design, using 30% recycled materials to create the 248-square-foot house on wheels. It has a half-arch copper roof, five separate rooms (living room, kitchen and bathroom on the first floor; bedroom and office in separate lofts) and a laundry list of eco-friendly features, including a rainwater catchment system, a vertical aeroponic garden, solar panels, a composting toilet and an alcohol stove.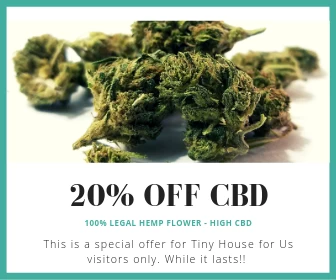 h/t Tiny House Talk
Small Home Oregon billed around $30,000 for the project, but Anita notes that that doesn't include the appliances or off-grid systems – or the interior decorating, which is baroquely Moroccan, with rugs, tapestries, woodcarvings and decorative ironwork throughout. It's charming, functional, and a nice example of what's possible when an owner with an idea gets together with an experienced builder.
2017 update: The Lilypad is on its way to the WeeCasa tiny house resort in Colorado, where it will be available at $179 a night starting in February of 2018.