Ann Armstrong, an Austin-based artist, architect and steel fabricator, had wanted to build a house since she was a little girl. Her career took her in other directions – design, architectural metalwork, public sculpture – but it also gave her the knowledge and tools she needed when she was finally ready to create her own home. Ann decided on a tiny house for several reasons: as a practical matter, such a small-scale project would be less costly and easier to handle on her own; and philosophically, she was interested in downsizing and decreasing her personal environmental footprint.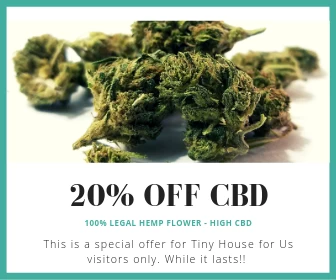 All the storage space (there's also a utility box outside with room for the Eccotemp Tankless Water Heater and some tools) has proved useful. There's a place for clean clothes, a place for dirty clothes, a place for seasonal clothes and no clutter in the living area. Ann also reports complete satisfaction with her Air Head Dry Composting Toilet, Friedrich air conditioner/heater, GE Spacemaker® Compact Refrigerator, and Panasonic WhisperCeiling™ Fan.
She still wishes for an extra shelf in the kitchen, and notes that things get a bit cramped when two people are cooking at the same time. But hey – a tiny kitchen where two people can cook at the same time doesn't sound half bad!
Photos by Ann Armstrong
The project ended up taking a couple of years, as isn't uncommon when an owner/builder is holding down a job. (Or, in Ann's case, a few of them – she was working simultaneously as an architect, steel fabricator, and art teacher during the construction). The finished house, in which she's now lived in for about three months, is an angular wood-sided THOW with a steel roof and trim. The interior is walled in natural pine. There's a full-width sofa under the rear window, the bathroom is located in the front, and the kitchen in back is opposite a set of storage stairs leading to the sleeping loft. To learn more about the build and get a glimpse into her tiny living situation be sure to check out her full story at http://startsmallblog.tumblr.com/