Handcrafted Movement's eagerly awaited* new build is finished and for sale as of a couple of days ago. It's called the Urban Craftsman and it's a 290-square-foot "luxury tiny home" on a 26-foot trailer. Luxury, of course, doesn't often come cheap, and the current asking price is a formidable $87,000 – but before you write it off as an overpriced betrayal of tiny house movement first principles (or for that matter, before you reach for your checkbook, if that's more how you roll), let's take a look at what you get for the money.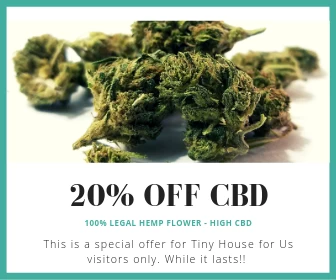 First, you get great interior finish, something Handcrafted Movement founder Matt Impola excels at. It's a very pleasant blend of comfortably worn wood and metal – reclaimed oak, walnut and maple; aged copper, bronze and brass – with tastefully painted surfaces. The walls are populated with shelves and planters, and the vintage leather sofa comes with the house (as does the memory foam queen mattress in the loft).
You also get fixtures and appliances including a 27-inch ceramic kitchen sink, 30-inch four-burner gas range with hood, full-size refrigerator under the stairs, 5-foot freestanding bathtub with rain showerhead, dual flush toilet, LG washer/dryer, remote-control electric fireplace, and a 40" Sony Bravia TV.
You get a well-appointed living room, a sleeping loft with a huge skylight, a big bathroom, and a kitchen that, thanks in part to an innovative extension that doubles as a dining table, adds an enormous amount of counter space to the aforementioned appliances.
It's all wrapped up in a sealed aluminum floor pan, board and batten siding and a standing seam metal roof, professionally plumbed and wired and fitted two 30-pound LP tanks that feed the stove and water heater.
*By us, at least – we loved their first one!