Here's a beautiful single-story cottage with impeccable style, located in Bend, Oregon. It's actually one of three cottages available for rent on the property and this one is dubbed the "Arrow house". Bend is an area that attracts outdoor enthusiasts of all ages, and those lucky enough to find this cozy spot enjoy central access to breweries, coffee shops, and of course hiking trails galore.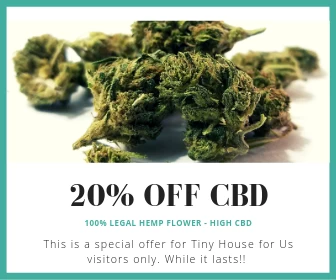 The Arrow cottage shows off a simple, yet elegant exterior, with a pop of color on the door and a cozy porch to relax on.
A spacious king-sized bed is tucked into the only bedroom, located on the first floor.
You can tell the owner has a knack for interior decorating, blending country, Scandinavian, and rustic elements perfectly.
Here you can see the rear of the home, with the bed area to the right, and the daybed built on pallets to the left. The kitchen occupies the front of th ehome near the door.
The Smeg refrigerator adds some Italian flair to the kitchen, which also features a large sink and four-burner gas stove.
This is the smallest of the three cottages, with a single king bed and a couch. The other two cottages each have two bedrooms. Although diminutive in size, it goes big on style, due in part to Sarah's passion for restoring and decorating older homes. I personally love the kitchen space, especially the combination of clean white walls framing the third wall, where you'll find an ultra-stylish black Smeg refrigerator tucked in front of a wall of dark reclaimed wood. When guests aren't resting in the cottage, they can enjoy the communal firepit just outside
Those interested in renting this home can check out the owner's Airbnb listing for rates and availability on this, and the other two cottages.