Is it just us, or have Tiny House Nation builds been getting a little silly this year? First a mini gothic castle, now a musician's residence with one section crafted to look like a giant amplifier… Oh, wait!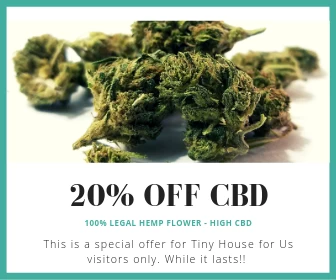 Appearance aside, there actually is a bank of weatherproof marine speakers built into the exterior of this 120-square-foot shed. That means that owner Asha Mevlana, an electric violinist, will be able to give outdoor concerts on her porch – or pretty much anywhere else she wants, since the shed is built atop a trailer. It's also soundproofed (with recycled denim), so Asha can use the interior as a practice area, recording studio, or very quiet guest bedroom. Silly? Not hardly – this is an incredibly thoughtful and practical solution for an owner with very specific needs.
The foundation-built main house isn't as unique, but it's also very nicely designed, with high ceilings and a glass garage door that make it feel a lot bigger than its 400 square feet. There's plenty of room to move around in the open kitchen and living area, while the bathroom and loft bedroom are kept out of the way and private behind a partition.
The bathroom is particularly attractive, with lovely blue-green brick walls and a wood-and-pebble floor in the shower.
h/t inhabitat