Some tiny house builders seem to overlook storage space almost completely. Others seem to delight in finding secret places to squeeze in the odd cubic foot or two. With their Juniper, Tina and Luke of Backcountry Tiny Homes haven't done either. They've literally made storage the centerpiece of the 24-foot THOW, in the form of a cabinet arch that also holds the house's sofa and desk/dining table. Add in a set of storage stairs just across from it, and you've undoubtedly got a lot more room for your possessions – and a lot less elbow room in the middle of the house. Is the tradeoff worth it? Have a look at the photos and decide for yourself.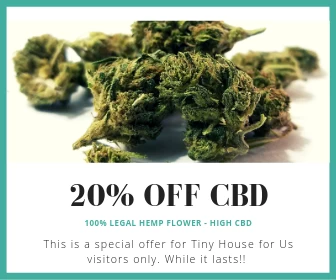 The Juniper was built with advanced ladder framing, and is attractively clad in sealed cedar and green sheet metal.
Loft and bathroom on one end, loft and kitchen on the other – and an awful lot of storage in between!
The arch, built with IKEA components, is divided in two. There's a pull-out coffee table under the couch and a fold-out desk in the other compartment.
Full size appliances, a huge sink, and lots of counter space – but where's the storage here?
Under the counters, where it won't block the view out the windows!
The ladder…
…to the bedroom…
…is also the door to the bathroom, which contains a small sink, a composting toilet…
…and a 36×36 shower stall.
h/t TreeHugger