The folks at Incredible Tiny Homes sure stay busy. No sooner had they completed their second build (the $20,000 American Freedom, which we profiled last month) than they moved on to their third. The 128-square-foot Little Joppa is a modified version of the American Freedom, with a slightly plainer exterior and what looks like a slightly bigger bathroom, complete with tub. That's a great evolutionary step (bathroom size was our only concern about the previous model), and now we're really looking forward to Incredible Tiny Home #4.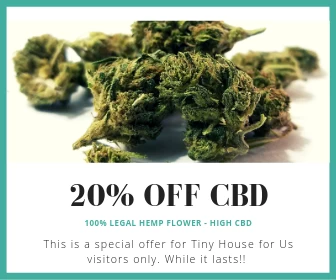 "Our price starts with your budget. We will build you a tiny house within your allotted budget. We use an array of materials and different techniques, our homes do not come with a base price."
We love the combination of traditional and rustic design elements, along with the splash of color on the front door. Clearly the duo behind Incredible Tiny Homes has a knack for building, guided by a sense of authenticity in their approach that's admirable, and by the recent examples we've seen, a desire to live up to their name.