Wind River Custom Homes, which despite its name is actually located in Chattanooga, TN, is offering some nice-looking tiny houses for $25,000 – $45,000 a piece. They say their houses show that it's possible to have a well-designed, stylish place to live at an affordable price, and their goal is to enable people to become financially independent through tiny house living. As more folks re-evaluate what the American Dream means to them and figure out that a 2,000 sq. ft. house doesn't fit with their vision of freedom, companies like Wind River have stepped in with a vision to create tiny houses that are big on character and low on price.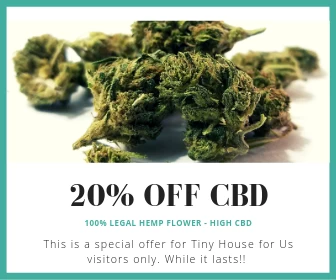 The owners, Travis Pyke and Jeremy Weaver, are both living in tiny houses themselves along with wives Brittany and Lindsay. Jeremy calls himself living proof that there's enough space in a tiny house for anyone – he's six and a half feet tall and well over 200 pounds. Both of them have extensive backgrounds in construction, and both decided to put their experience to use building tiny houses as soon as they heard of the movement.
As he writes on their website:
When I first heard about tiny houses a few years ago I pranced around the room giggling for a few minutes (not actually), it fit perfectly with my vision for how life should be lived. Living with less, to do more and be more.
At 6'6″ tall and 225 lbs, Jeremy is proof that you can live comfortably in a small house even with a large build. We look forward to seeing what they bring to the table in the future, and encourage you to check them out if you live in the Chattanooga area.