Cannon Properties is a traditional homebuilder from Fort Worth which is now expanding into the tiny house business. This 30-foot triple-axle model seems to be their second tiny build. Taking their cues from the classics, they've put together a functional, well-finished house with few surprises, a lot of livability, and a pretty nice price tag of just $49,000.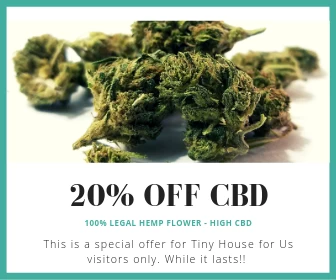 A fold-down porch protects the sliding glass doors during travel and provides a place to sit once you've arrived.
There's an extra door set into the pine-and-metal siding on the other side.
The rest of the house has 11-foot ceilings, but the living room looses some headroom to a loft.
Floor space, though, is abundant throughout. A ceiling fan and a ductless heating / air conditioning system take care of climate control.
Putting the stairs across from the kitchen sometimes leaves the cook with a rather narrow workspace, but it looks like there's lots of elbow room here.
There's also a beautiful granite counter top, a stainless steel sink, a propane oven with a four-burner range, and loads of cabinets.
All those cabinets on the kitchen side of the aisle leave the storage stairs free for other stuff – including a full-sized refrigerator.
While not particularly large, the bathroom finds space for a vanity, sink and attractive octagonal mirror beside the flush toilet and propane water heater.
A quarter-circle glass shower stall completes the picture.
With just one narrow window and without much headroom, the master loft is probably the least impressive part of the house.
h/t Tiny House Talk