Daniel Weddle's first tiny build was a rudimentary 8×8 shack that gave him a place to learn the fiddle without bothering anyone. The Carpenter Owl, as he's also known, must learn quickly, though, because his second is anything but rudimentary. The gorgeous and uniquely designed 136-square-foot Snails Away is a nearly full-fledged THOW that's now his fulltime home. The silhouette and the siding are both striking, and there's a story behind each. The house's unusual profile was inspired by the curves of Daniel's fiddle, and the mix of cherry, maple and poplar that covers it came from dead trees on his family's central Indiana property.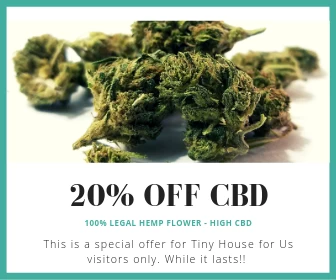 The many windows (all of which can be cranked open) are also reclaimed, as is the corrugated steel that covers the roof and rear wall. That joining of the roof and wall isn't just there for its graceful appearance, either; Daniel says it increased torsion strength in the timber-framed structure so that he didn't need to use any plywood in the walls (which are insulated with Black Mountain sheep wool). The interior finish is even more eclectic than that outside, featuring cedar, cherry, maple, poplar and both white and red oak. There's a small kitchenette / music studio under the sleeping loft, an open area with a foldout six-seat dining table in the middle, and a sofa in the other end under the second loft.
That loft holds an unexpected and luxurious surprise: a bathtub with on-demand hot water. It's all the bathroom the Snails Away has, but Daniel did put a portal in one wall that gives him easy access to a composting toilet stored outside. He admits to "moving in before everything was finished" and is planning a few upgrades such as a cooktop, mini-fridge, woodstove and propane heat.
h/t Tiny House Talk