West coast builder Tiny Mountain Houses is relatively new to the tiny house scene, but it's unusually well-organized for such a young company and looks set to become a major player pretty quickly. Headed by the Pereyra brothers, who bring both a real enthusiasm for tiny houses and a deep knowledge of systems built construction techniques to the table, TMH already offers seven tiny house models starting at just $35,000. Even more remarkable, they offer 100% financing to qualified buyers, which could mean paying less than $400 a month to own a TMH house outright in 15 years.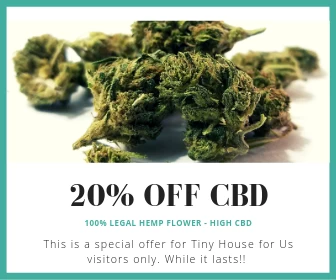 The one we're featuring here, the Castle Peak, goes for $45,982 and has 204 square feet of space on the main floor with an additional 118 square feet of room in three lofts (two for sleeping, one for storage). That includes electrical wiring, plumbing, and R-11 insulation all around. At the base price you get pretty basic finishes, but plenty of optional upgrades are available for those looking for something a little fancier.
The Castle Peak rises to 13½' atop a 24′ trailer bed.
The dual lofts add a very significant amount of usable space.
And there's plenty of headroom in either one!
Easy reference on the floor plan and dimensions, thanks to TMH – head to their website for more details.
h/t Tiny House Talk
Both the Castle Peak and their previous Mt. Everest model offer a nice balance of affordability and design, which is something we appreciate. With a guiding philosophy of enjoying more freedom, incurring less debt, and living a more fulfilling life, they align with the same values of your everyday tiny home buyer. They have two additional designs in the works and we look forward to seeing what else they bring to the table.
For more information check out their website, http://tinymountainhouses.com/