The Northern California town of Chico, CA hosts this nifty 120-square-foot tiny house. Judging by the finished product you'd never know that Ally Muller and Nithya Priyan, the married couple who built it, had little money to spend and zero construction experience. No matter though, as they gained a wealth of design inspiration and building knowledge thanks to Youtube.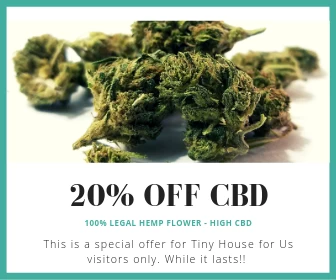 The couple poured over videos, soaking up everything they could about framing, wiring, plumbing, and more. With just $6k in their bank account, they began their project and spent nine months working on the build. The total cost came in at just around $8500, and Priyan attributes the low cost to their resourcefulness, as they used plenty of salvaged and scavenged materials to complete the project.
Warm colors and wood liven up the bathroom.
The bookcase is about all the storage there is inside the house – an adjacent 8×8 shed provides the rest.
A natural tree trunk doubles as a coat/bag hanger, while exposed beams and a charming color scheme soften an otherwise very modern kitchen.
Bold, contrasting colors in the dining nook separate it from the rest of the house.
California sunshine pours in through the south-facing window in the bedroom loft.
With this one under their belts, they're planning to use their newfound expertise to help others realize their tiny home dreams by offering alternative dwelling design, build and consult services through their company Palm to Palm. They're aiming to release detailed blueprints for this model soon and recently made a sketchup file available free of charge.