Built as a bachelor pad by an anonymous Maine carpenter shortly before he got married, this tiny trailer house was understandably unfinished when "Clever Girl" and "Dumptruck" snatched it up for a great deal. Those aren't their birth names, but rather pseudonyms in case you're wondering. The 8′ x 18′ 144-square-foot place had a woodstove and plenty of insulation in the walls, but not much else. Dumptruck then spent a few months putting in electrical wiring, a bathroom with a marine toilet, a kitchen sink, a closet, and various other fixtures. There's still no plumbing, so showers are accomplished with a makeshift apparatus consisting of a hand-pumped weed sprayer connected to a shower head by a length of garden hose.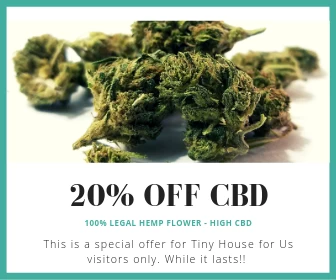 The exterior was already complete when Clever Girl and Dumptruck bought the house.
The interior looked good too, but needed some finishing. Dumptruck would remove the shelving in the bedroom to make room for the bathroom/shower.
The bare shell was fully insulated to make surviving Maine winters possible, but had no furniture, or hookups for water and electricity.
It took a couple of months of hard work to make it into a home for the couple (and their cats).
The bathroom/shower Dumptruck built has a unique feature – they use a weed sprayer to power the shower head. Just a few pumps to build pressure, and 2 gallons of water is all it takes per shower. The couple estimates they use 9 gallons per day total, as compared to the 90+ average for most Americans!
 No, it's not filled with Round-Up. Instead, this weed sprayer works as their shower reservoir and is rigged to a hose…
which connects to the shower head!
The once empty kitchen finally gets put to good use.
A table conveniently folds from the wall to save space.
And the bench moves to accommodate four adults for a meal!
h/t Trail Kit
When the couple bought this home, they were fresh off the heels of a 6-month backpacking journey where they spent every night sleeping in a tent. They relished in the thought of having a tiny house like this to call their home, and through a lot of hard work and effort, they completed every last piece of the build, and as Clever Girl writes, "We know fully understand the meaning of the phrase "Do It Yourself." We DIYed all over this mother." They sure did.
You can check out more of this home and learn about their journey at http://trailkit.blogspot.com/