Even with a full time, professional job, it's not easy to pay rent sometimes. Especially in places like San Francisco or New York. And when you're a college student? Even tougher!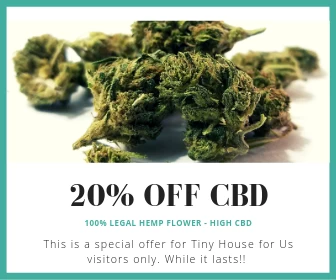 So when Michael and Nicole set out to avoid rent, they landed on the idea of building their own tiny house. Having no construction experience didn't stop them either.
This is a fairytale for me and every single tiny thing about it brings me so much pure happiness and love—Nicole
Honestly, you'd never know they had no building skills by looking at this space. It's beautiful!
The house took them seven months to build—not long at all considering they'd never built anything like it before. And they were able to build it without having to take out any loans. Nicole had a savings account to get them started and Michael was working a well-paying job. This meant they could build the entire house without going into debt—something they're incredibly grateful for.
So how much did the build cost them?
Just $27,000, which is pretty impressive for a tiny house of this calibre. They managed to save a lot of money by doing absolutely everything themselves. They built the house on private land where they had access to tools and people were able to give them tips as they went.
The trailer was a big upfront cost, setting them back around $7,000. To keep other costs down, they bought second-hand. However, they both advise that while trying to save money is always smart, there are places where you don't want to skimp or compromise, such as with the insulation, roof, and any structural stuff such as studs and sheathing. You want it to be high-quality so it will last.
Do they plan to live in the tiny house for the rest of their lives? Probably not, they say. They built it in order to keep their rent costs down while studying, and it was designed for college life. When they have kids, it will probably be too small and chaotic to live in. But they'll never get rid of it. It will always be a part of their lives as they built it with their own hands. Perhaps they'll turn it into a playroom or art studio.
While they won't be doing tiny living forever, they have no regrets about their tiny home, which is perfect for them at the moment. They feel so lucky that they get to wake up each day in their own unique tiny house.
As Nicole explains, the imperfections that come with building a tiny house yourself just make it more special. When you see cracks in the siding or a chip in the paint, it reminds you of the day that you built that part of your home—and these memories are so wonderful.
While it's not a professional tiny house (by their own admission), it's a very functional, liveable, and cute little space. The tiny house has lots of cool and unique features, such as the little fireplace, a flat-screen TV that extends out and can be swivelled so they can watch it from bed, a cosy little nook that's going to become Nicole's art space, and a barnyard door to the bathroom. We especially like the loft with the little bedside tables, string lights, and fake plants. Apparently, when it rains, they can lie in bed and hear it hitting the metal roof, which sounds very dreamy and romantic to us!
The house also has lots of open shelving and storage which has the advantage of making it easy for Nicole and Michale to see what they have. An open pantry means they can see when they need to go to the grocery store and stops them from overbuying when they do go. The open clothing rack also means that they can see exactly what they have and don't forget about anything—ideal for the minimalist lifestyle. 
You can follow their journey via Instagram @nicolettenotes, read more about it on Nicole's website NicoletteNotes.com, or check out their YouTube channel. The couple have also recently got married. Congratulations Nicole and Michael!