When you simply want a place to get away from it all, somewhere to spend the occasional weekend, and not a full time home, take a cue from this couple. Their cabin might not have high-end finishes, but what it lacks in form it more than makes up for in terms of what it offers – a respite from the office, a place of peace and quiet, surrounded by nature where you can recharge your spirit. Prices for land in Oregon have made quite a comeback in the past couple of years, so much so that Portland-based partners Mariah Morrow and Ryan Lingard felt they were getting a bargain when they found a steep, partially burnt 1/3 acre parcel near Joseph for $47,000. That didn't leave much room in their budget to build anything there, but that didn't bother this couple – Ryan, an architect by profession, and Mariah, having grown up in the remote countryside without running water or electricity, both felt more than capable of building something simple and special on their land.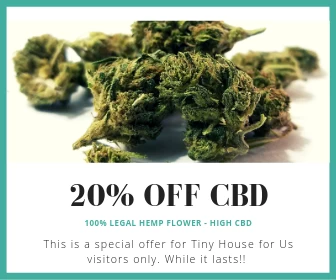 The Signal Shed has a floating pier foundation and cedar siding. Additional cedar screens can be emplaced to securely seal the cabin when its owners leave. The interior is plain plywood with laminate flooring, IKEA cabinets, a portable toilet, and a woodstove for heat and cooking. There's a homemade solar system that can sometimes provide a hot shower, but no running water and no electricity; lighting comes from candles or oil lamps.
They took quite a few camping trips to the site to get a feel for the land and what they wanted to do with it. Two years later Ryan had come up with a 130-square-foot design that met their requirements and would cost only $10,000. With help from friends and family, construction of the cabin they call the Signal Shed took just two weeks. Mariah and Ryan now spend the weekend in it several times a year for hiking and skiing vacations.
Simple, yes, but for a relaxing weekend that kind of simplicity can be just what the doctor ordered, and the Signal Shed has been well received by the design community. It won a Residential Architect Magazine design award in 2011 and recently garnered a mention in Sunset Magazine. Capitalizing on the success of his design, Ryan now sells plans for the structure for $1,000 and even offers a prefab version for $18,000.