Between the kitchen and the bathroom, it's hard to say what's the best part of this 28-foot custom Fontana model from Cornerstone Tiny Homes: full-size stainless steel appliances, granite countertops, the first walk-in shower in any tiny home, that bedroom loft…actually, though, the best thing about Cornerstone's Fontana may be something else – the price. This unit has a few upgrades, and still comes in at a reasonable $50,00.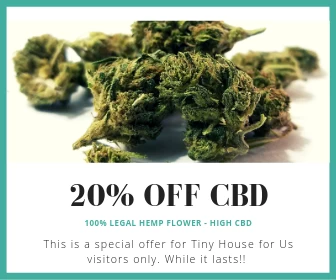 The exterior displays an elegant muted color scheme with black roof and trim and a blue door setting off the cypress siding. Things brighten up inside with whitewashed walls contrasting nicely with the dark wood of the floors and cabinets.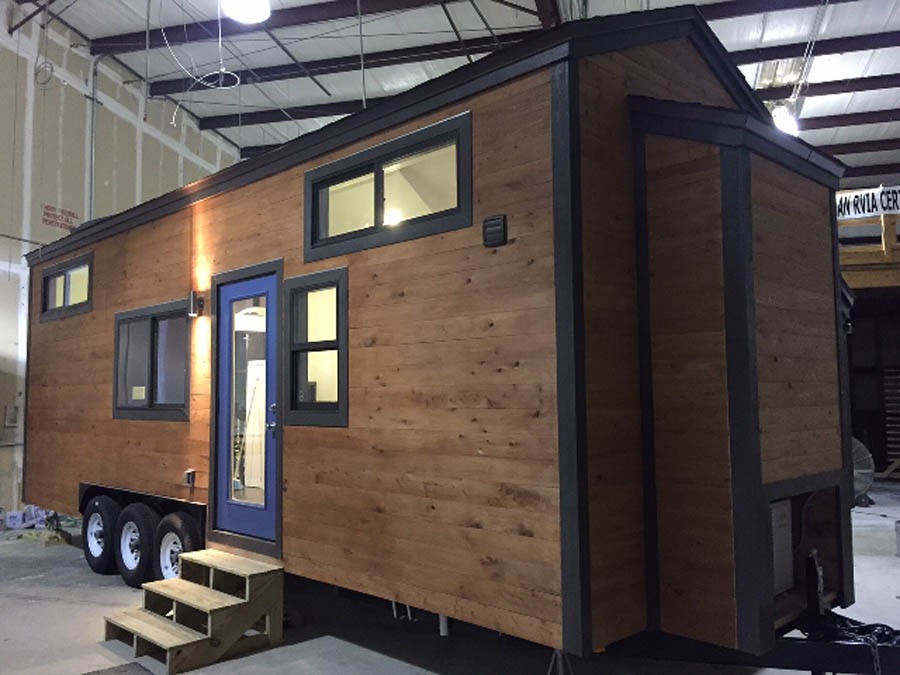 The kitchen makes a statement with granite countertops, a full-size refrigerator, an oven and four-burner stove with vent and tile backsplash, an under mount sink, and lots and lots of cabinets.
 There's even a backlit, built-in wine rack!
The bathroom contains a beautiful slate and tile mosaic shower stall that Cornerstone claims is the first walk-through ever installed in a tiny house, as well as a vessel sink set into a niche with ample shelves on each side.

Even with a toilet and washer/dryer across from the shower there's plenty of space to move around; it's easy to imagine one person showering while another does laundry or brushes her teeth at the sink.
Diagonally opposite staircases (one floating, one standard) lead from the living room lead up to two lofts. Both have large windows on each side, and the master's bedroom also features a skylight, a sunk queen size bed, and underfloor storage space.
(There's no sofa, but the storage bench in the central living area looks comfortable enough with a cheerful red cushion on top of it!)
 For more information visit http://cornerstonetinyhomes.com/