This is not National Lampoon's Animal House from Universal Pictures – it's the Creative Animal Foundation's Tiny House from 84 Lumber's Tiny Living division. The movie was more fun than a barrel of monkeys; the house is on a mission to save the monkeys, and the planet, through an educational tour that will take it through some 50 cities over the next couple of years. Creative Animal Foundation co-founders Stephanie Arne and Tim Davison will be living inside the 24-foot THOW as they travel around the country to present programs on sustainability, wildlife preservation, and ocean/waterway conservation.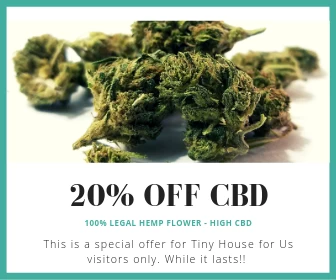 Stephanie & Tim wanted their house to exemplify the ecofriendly message they're promoting, so they asked 84's team to emphasize sustainability in the design and materials (many of which were reclaimed or sourced from GreenEdge Supply, another division of 84 Lumber).
The old and new have blended seamlessly here as light from the low-E windows spills from the reclaimed butcher block counters onto brand-new but ecofriendly bamboo floor.
Tim, an accomplished wildlife artist, has reserved a corner for his easel, paints and brushes.
The bathroom features a Nature's Head composting toilet and a sink made from a repurposed galvanized bucket.