An assured first build from Bay Area builder Dream Big Dwell Small, the Industrial Chic shows off company founder Erik Ander's lifelong involvement in home design and construction to good effect. (Erik's not all that old, but he got an early start: his father's an award-winning architect who let him participate in homebuilding projects since he was a little boy.) There's 300 square feet of space inside this tiny house on a 24-foot trailer, and the clean, clutter-free layout makes it feel even bigger.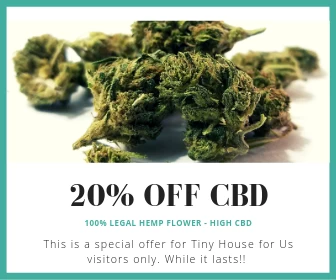 We don't usually start our tiny house tours in the bathroom, but it's hard not to get a little excited about one that offers 45 square feet of space in which to use the 36-inch glass shower stall, composting toilet, vitreous china vessel sink and washer/dryer unit. So many tiny house bathrooms are a tight squeeze for one person; here, you won't have to wait to brush your teeth, take a leak or do the laundry while your partner's in the shower. The kitchen just outside is similarly functional, with 16 feet of counter space, a full-size four-burner oven, a microwave and a ¾ refrigerator/freezer.
Past the exterior door and a dining table, the living room has a comfortable sofa and plenty of space to add an entertainment center, bookshelves, or even both. The two lofts, one king and one queen, are accessed by an attractive and space-efficient oak ladder. Finish looks good too, with warm cream-yellow walls and maple-pattern vinyl flooring contributing to quintessentially modern hominess of the place. DBDS now has the Industrial Chic on sale for $75,995.