Here's a Tumbleweed Cypress 18, a model which you've probably seen before, but one that has some clever customizations you probably haven't. Let's see what builder / owner Derek of New Orleans has been done to imbue one of the most popular tiny house designs around with his own flair.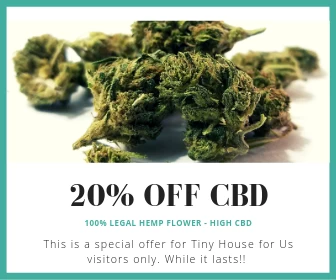 Derek kept the standard cedar siding and metal roof, so his house is instantly recognizable as a Cypress. Inside, though, the layout is more reminiscent of a small yacht. There's a fully-equipped galley kitchen and a multipurpose couch which converts into a storage cabinet, a bed that sleeps two, and a dining booth that seats four. In the bathroom you'll find an unusual sheet-metal shower stall and a flush toilet surrounded by the more conventional pine finish used in the rest of the house.
Outside, it's a nicely done Tumbleweed Cypress in the traditional style.
The innovative combo unit in couch form.
The simple yet elegant bathroom features a flush toilet.
The sheet metal saved Derek some money over buying a fiberglass shower stall, and it gives the area an interesting DIY look with a modern/rustic style that we love.
Note the mini-split air conditioner over the kitchen; without it, cooking during a humid New Orleans summer could get pretty unpleasant.

A big thanks to the Tiny House Giant Journey duo for their video showcasing this beautiful build. If you want to follow Derek's own journey, check out his Instagram and you can visit Tumbleweed's website for more information about the Cypress model.