In 2012, Sicily Kolbeck was 12 years old, and she had an idea: build a tiny house. While the fanciful plans most of us have at age 12 never seem to amount to much, Sicily managed to see her lofty plans through. We know it isn't easy to save up $10k for a tiny house build, and if you struggle to make ends meet, then perhaps her story will help inspire you. It wasn't an easy project for a 12-year-old to begin with, and an intervening tragedy meant that it ended up taking nearly two years. But thanks to her own fortitude and help from highly supportive parents, community members, and Indiegogo donators, Sicily now has her own 128-square-foot tiny house on a trailer.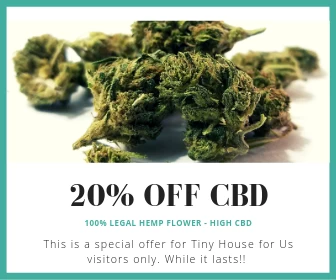 A project requirement at Sicily's school (which was owned by her mother, Suzannah) provided the initial impetus for the idea. Sicily wasn't sure what to do for her project at first, but when she coincidently learned about the tiny house concept, a number of things came together for her. The not-uncommon teenage dream of independence, an aversion to clutter, and a desire to learn some useful skills combined to make Sicily sure that a tiny house was the most logical choice for her school project.
Resourcefulness Pays Off
Most logical, perhaps, but certainly not the least expensive possibility. Sicily estimated that the house would cost $10,000, and while that proved to be a very accurate estimate (she actually came in a couple of hundred dollars under budget), she had only $500 to contribute to it. This is where the love and support of her parents really shines through. Although the family was far from wealthy, Suzannah and father Dane credited Sicily with the $7,000 cost of tuition at Suzannah's school and added another $700 on top of that. Sicily also raised over $1,500 in donations on Indiegogo.
Getting By With A Little Help
Even with the money she raised, Sicily readily acknowledges that she could never have built her house for the cost she did without a lot of donated materials and skilled labor. The first to help in this way was West Virginia organic farmer Luke Bair, an old friend of Suzannah's, who donated a used 8×16-foot trailer in September 2012. He apparently hadn't used it for a while and misremembered the dimensions as 6×16 feet before Sicily's family came to pick it up, but she was happy with the larger size and quickly adapted her blueprints to match it.
Trailer Woes
Another issue with the trailer was that it was homemade and required some fairly extensive welding to make it uniform enough to build a house on. Fortunately there was another donor to take care of that. Howard's Wrecker Service & Body Shop, Dane's former employer, agreed to do the welding and painting if Sicily could supply the necessary scrap metal.
That work took until December. Meanwhile, Sicily was busy assembling other materials and building her own vegetable oil heater. She also got in touch with EcoFoil and secured a donation of 500 square feet of reflective insulation for use as a radiant barrier on the underside of the trailer. Then it was on to framing, which Sicily and Dane worked on through the end of January 2013. Plumbing work and installation of a sawdust composting toilet came next.
Finding Strength Through Tragedy
After that came a very sad event that put both the tiny house project and Sicily's life on hold for several months. On February 16, 2013, Dane died in a car accident.
Understandably, Sicily and Suzannah felt little motivation to work on the house or do much else for some time after Dane's death. They mourned him, sat and stared out the window, and played gin rummy to keep their minds off the tragedy. After a while, though, Luke Bair came to visit and realized that there was a better way to keep the pair occupied, one that would also honor Dane's memory: complete the project. Luke didn't just suggest they do so, either; he was a homebuilder before he became a farmer, and so he was able to pitch in by assuming Dane's role of helping Sicily with the construction.
The new team also found a new friend in Kurt Waggoner of Atlanta-based roofer Dr. Roof. Kurt handled the technical and somewhat hazardous roofing work for free, got his colleagues at Gulf Coast Supply to donate the roofing materials, and even hooked them up with a supplier, PMC Building Materials, who agreed to give a sizable discount on their small siding order. Despite all the help, Sicily, Suzannah and Luke still had plenty to do themselves and remember putting in quite a few 13-hour days during the late spring of 2013.
They took the summer off for some travel, then got back to work and put the siding on in the fall. Sicily and Suzannah were also invited to speak at the inaugural Tiny House Conference in April 2014, and they set a goal of completing the house before then. Slowly but steadily things kept getting done – interior walls in January 2014, kitchen counters in February, stairs in March – and they were able to declare the house finished on April 4. A misadventure with a mover prevented them from presenting it at the conference, but Sicily's speech there went off without a hitch.
Since then, the pair have continued to work on the house off and on, making improvements and repairs and optimizing the space for two people. They haven't moved into it, as they're now city dwellers in Baltimore, but are keeping it a short drive away in Delaware. Whatever happens to it next, Luke Bair feels that it's already fulfilled its mission. It's not the house itself, he says, so much as the process of building it, begun with Dane and finished without him, that represents Sicily's memorial to her father.
Tour Her Home
A Final Word
Suzannah writes for several blogs, and Sicily seems to have inherited her talent with words and interest in sharing her experiences. Her blog La Petite Maison is a great place to learn more about the story of her tiny house. She's also given a TED talk, been featured on CNN, written an article for the Huffington Post, and spoken at the Tiny House Conference. We think she's a a great inspiration to anyone who thinks they can't build their own tiny home, and we wish her all the best going forward.