Living in a big city has its perks, and for many folks it's the perfect place to be, but it can become equally tiring. That was the case for designer Rupert McKelvie, who retreated from his busy London life for a more laid-back scene in the country. He moved to Devon, England and started his Out of the Valley business which focuses on building sustainable and off-the-grid homes also set a high standard for aesthetic beauty. With a background in furniture design and training as a classical wood boat builder, he had the right skill set. The model home he built on the River Teign is a perfect example that showcases those skills and his design approach.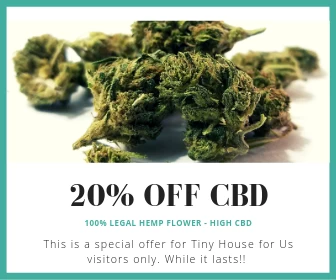 The quaint cabin has ample room for two people, and it blends together an interesting mixture of styles, with a rustic exterior look that uses Japanese torched lumber for the cladding and a clean interior that reflects a sort of Scandinavian design sense. The oak deck includes a canvas shade stitched by a sailmaker and a corrugated black metal roof.
Inside you'll find a king sized bed tucked into the corner, beside the open living space. A loft above offers space for storage, or should he choose, an additional sleeping area.
McKelvie built much of the furniture and built-ins using ash and oak. He recently launched a furniture collection which includes various rustic styles of sinks and vintage items.
The bathroom shows off high-end Carrera tiles and brass fixtures, and makes use of a compostable toilet.
Photography via Out of the Valley
The cabin rents for $193 to $237/night depending on the time of year. You can learn more about it here http://outofthevalley.co.uk/