This unique and stunningly successful symbiosis of reclaimed wood and metal is called the Earth and Sky Palace, and it's currently for sale in Denver with an asking price of $74,000. It's a 200-square-foot THOW with a queen bed on the ground floor and a lightweight, durable steel frame welded to its 24-foot trailer. Plywood and high-R-value spray foam insulation provide the climate barrier; on top of them is this gorgeous mix of reclaimed heart pine, blue stained weathered cedar, salvaged sheet steel, and recycled composite Onduvilla roof tiles: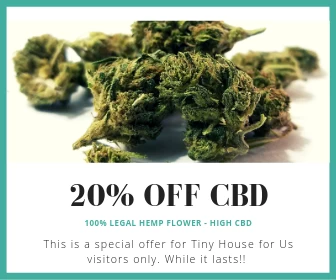 The atmospheric retro-industrial aesthetic is carried over on the interior, which features appliances like the Verona propane oven/stovetop and a Thelin Gnome gas heater. There's nothing retro about the functionality; the Gnome is controlled by a Honeywell thermostat, the Friedrich air conditioner you see in the background by an iPhone.
The intriguing patterns aren't wallpaper; they're antique pressed tin from a 19th century Nebraska prison. The other walls and the ceiling are stained beetle kill pine, while the floor is maple. Accent trim is rosewood.
The central kitchen is very open, with a glass door on one side and a 3×5 picture window on the other.
The bathroom is every bit as beautifully well designed as the rest of the Earth and Sky Palace and is finished with stone mosaic tile on the waterfall edge counters and in the walk-in shower area. The toilet is a dual-flush Glacier Bay model and the faucet is a Lundskär.
We don't know who made the solid brass showerhead, but apparently it added a thousand bucks to the cost of the house all by itself!