Nothing impresses us more than a well-built home made by folks with no background in building. These stories provide the inspiration so many of us need to pursue our own projects, and today we're going to explore how one couple in Portland, OR, built the rustic guest house you see here using nearly 100% reclaimed materials. When this couple decided they needed a little more space to offer visiting family members, they set out to build their own guest house, recruiting their friends for some extra help and using an abundance of recycled materials in the process. The end result as you can see, is quite impressive.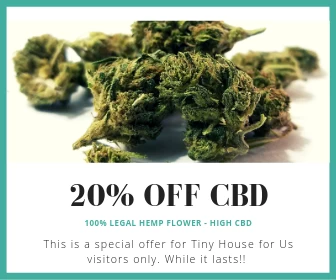 "For years we've been daydreaming about "maybe building a house one day". Then we finally made it happen – using our own two hands" – Michael and Jenna
I really love the exterior details, and the combination of shingles, siding, and color they use brings such a great depth of character. On the inside things are equally impressive.
No ladder to the loft – instead a staircase offers easy navigation up and down.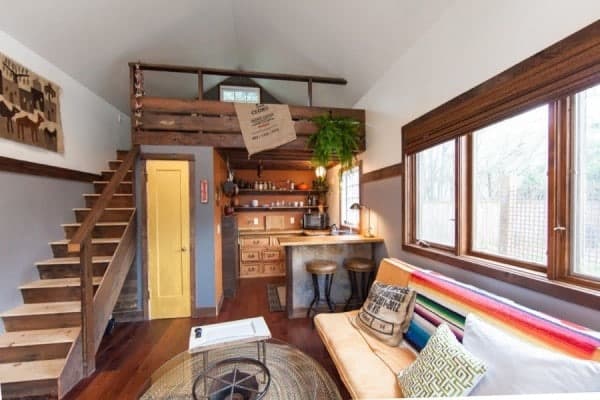 This photo offers a better view of the kitchen, showing the exposed beams that were salvaged from an old barn. The stove/refrigerator combo unit was sourced from Hood River History Museum. The couch folds out into a sleeper, offering a little extra space for the kids to sleep at night.
The bathroom provides guests with a normal toilet experience, and there's a full size clawfoot bathtub and shower, all connected to the sewer and water so there's no worries about running yourself a nice hot bath.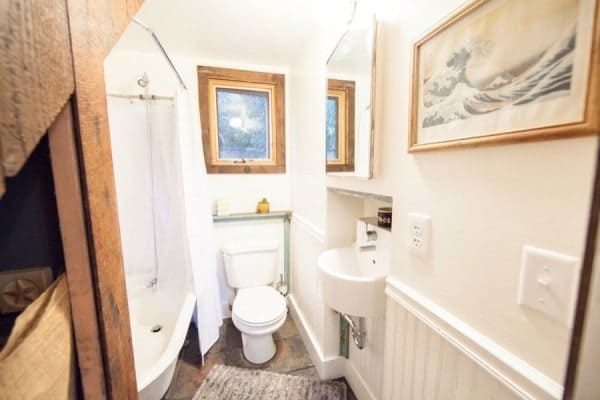 This overhead view, shot from the loft, shows the downstairs layout. Notice the stove in the corner, with the recessed area for those decorative rocks in front of it. A very nice little touch.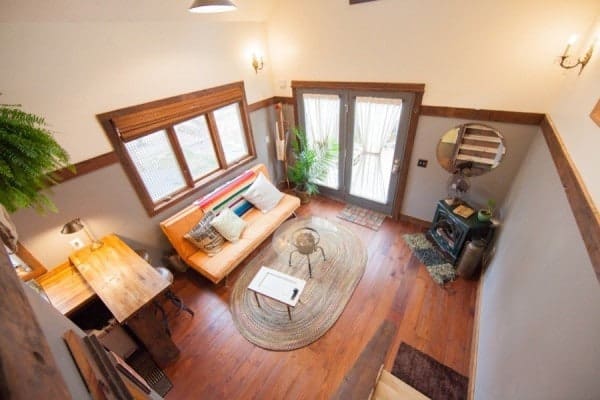 Even the coffee table was made from reclaimed materials.
The loft area provides a room enough area to sleep, with no worry about banging your head into the ceiling. Just out of sight to the left are storage lockers, which serve as the bedroom dresser.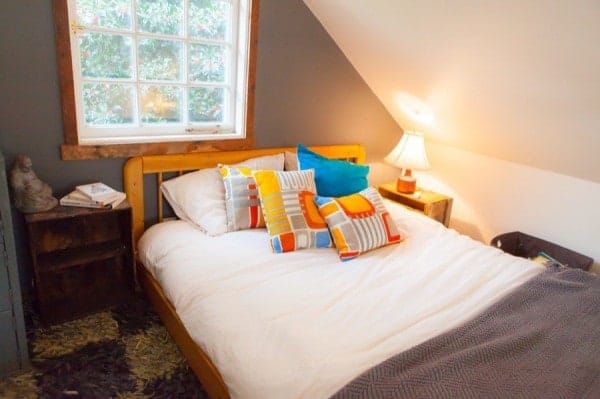 Beautiful detail marks the exterior of the home, with "coastal" blue painted siding that brings a weathered appearance combined with the cedar shingles. I love how they separate the shingles with the darker strips of wood. Wood clad windows were found at a horse farm, and most of the shingles and teak flooring were salvaged from nearby construction sites.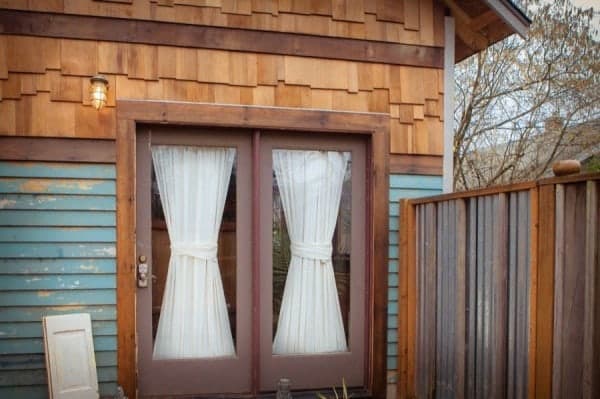 If this house looks familiar, it was featured on the hit TV show "Tiny House Nation" so perhaps you've seen it there. If you're interested in renting it for a night you can visit their Airbnb page to inquire about a stay.