Amazingly, the setting among the giant redwoods of the Santa Cruz Mountains near California's Monterey Bay isn't the most impressive thing about Mary Jane's Redwood Treehouse. Gorgeous as that is, it's actually the lovingly realized interior design work that's the real eye-catcher here. Not that you'll miss out on the trees; there's one growing through the building, and plenty more visible through the many windows.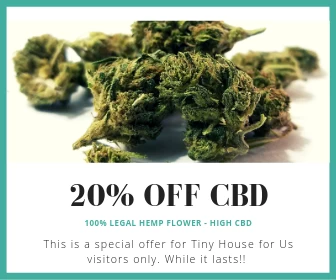 Stained glass artisan Randy built the treehouse, and while he doesn't seem to have used any colored glass, he's obviously a man of many talents. Constructed around the aforementioned tree, the house has a hexagonal (or is that octagonal?) open-plan layout with alcoves for the kitchen area and bed and an enclosed bathroom with shower and flush toilet. The parquet floor displays a couple of heirloom carpets, and lovely green floral wallpaper provides a pleasing backdrop for exposed wood beams and window frames and reclaimed cabinetry.
h/t Tiny House Talk
Altogether an enchanting little place, and one you can book for $125 a night through Airbnb. Amenities include wood and gas stoves, cooking implements, a TV with DVD player, and even an outdoor hot tub.